Insurance
Goods are not automatically insured when in storage.
Due to the high quality of our centres we have been endorsed by the major insurance companies and offer insurance at all our locations. Many of our competitors have been unable to reach a similar standard and cannot offer insurance of your goods.
Kennards Self Storage provides an easy and simple programme customers can participate in. This insurance is structured in a pay-as-you-go system so you only have to buy what you need, and automatically renews when you pay.
Although incidents in our self storage centres are extremely rare, insurance for your goods in storage is available. Customer's goods are not automatically insured when being stored. It is the customer's responsibility to be insured. Kennards has an easy simple insurance programme you can participate in.
First Month Complimentary Insurance
When you choose to Store with Kennards Self Storage, you receive "Complimentary Insurance Cover" with your first month of Storage.
When moving into storage there can be a lot going on, complimentary insurance for the first month means one less thing to think about! There is no obligation to continue after the first month, and customers are reminded to check that what they are storing is eligible under the Terms & Conditions of the policy and not excluded.
Level of cover is capped at $30,000, with a $100 excess payable by the customer for each and any claim.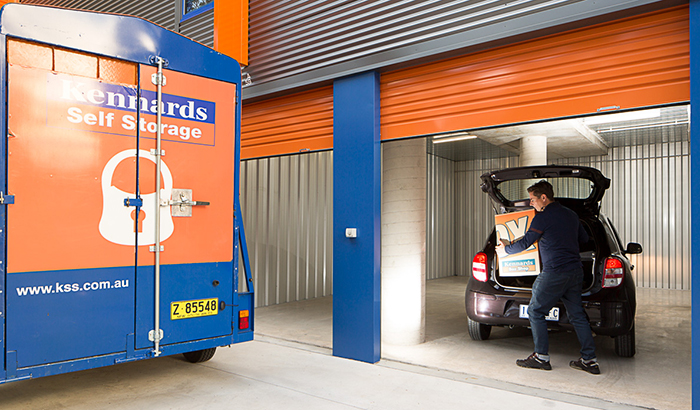 Insurance Policy Cover
What Events are Covered
As a service to you we can arrange insurance against the following perils: Fire, lightening, explosion, earthquake, wind, storm and tempest, water damage and leakage, impact by vehicles or aircraft, malicious damage, riots and civil commotions, theft (subject to visual of forced entry).
Indemnity Value Cover
Your goods will be insured for Indemnity Value. This means the value is the replacement cost less an assessed allowance for condition, age, wear and tear.
Avoid Under Insuring
Please ensure that you declare the total market value of your goods to avoid under insuring.
Maximum Cover
The standard policy enables cover up to $100,000 loss. If you need additional cover, this can be arranged by request.
Policy Cover Exclusions
To understand the events excluded under the policy please read the Product Disclosure Statement.

Premium and Excess
Your Excess
An excess is the amount you must pay each time you make a claim. The policy is subject to a minimum excess of $100.
Underwriters
QBE Insurance(Australia) Limited(ABN 78 003 191 035)
How to Take Out Insurance
All new customers who choose to store with Kennards Self Storage receive FREE insurance with their first month of storage. Our Team will contact customers to ask if they would like to continue with insurance before the end of the first month.

Customers can choose to opt in or out of storage insurance at any time by contacting their storage centre. For existing customers simply contact the centre to add insurance. "It's as easy as that".
In Case of a Claim
Claims must be made at the time of discovery of loss or damage. Claim forms are available from the centre just ask one of our friendly storage professionals. All negotiations are made directly with the insurance company.
Product Disclosure Statement
For a comprehensive explanation of the insurance please read the Product Disclosure Statement.
Click here for Product Disclosure Statement

AON Financial Services Guide
Explains, the products and services, remuneration and other important information.
Click here for Financial Services Guide

Important Distributor Notice
Kennards Self Storage and its employees act as a distributor of AON Risk Services Australia Limited ABN 17 000 434 720 AFSL 241141 (AON) in issuing or arranging Customer Storage Insurance underwritten by QBE. We receive the full amount paid by customers for access to the storage insurance benefits that we have arranged under our policy of insurance with QBE Insurance Australia.

Click here for Distributor Notice

Target Market Determination
(TMD) is prepared by the issuer of the product (QBE) and aims to provide customers and distributors (KSS) with sufficient information to understand who the product is designed for. It also details the distribution conditions for this product.
Click here for Target Market Determination

AON Privacy Statement