Kennards Self Storage at Castle Hill has opened its newly built four storey storage building for business located at 5 Packard Avenue, Castle Hill NSW 2154.
The state of the art storage building forms part of the expansion of Kennards Self Storage at Castle Hill. The thirst for storage in the local community has resulted in a four level storage building that is highly visible from Windsor Road. The famous orange and blue Kennards building adds its vibrancy to the location.
Centre Manager Mick is extremely excited about the addition " We have all different sized units to help local residents and businesses for their storage needs, If you need a storage solution please come and see the people who care at Kennards Self Storage Castle Hill ."
Assistant Manager Medhat also goes on to say " I'm looking forward to working from our new state of the art building, please come and see how we can help with you storage need."
Mick has been working for Kennards Self Storage for over 10 years and is a local to the Hills District, during this time he has managed several Kennards facilities. Mick's easy going style makes the storage experience seamless. He embraces the Kennards values of "Store with People Who Care."
Assistant Manager Medhat has been with Kennards for four years and Jim over two years. The Castle Hill team have a combination of over 16 years of storage experience.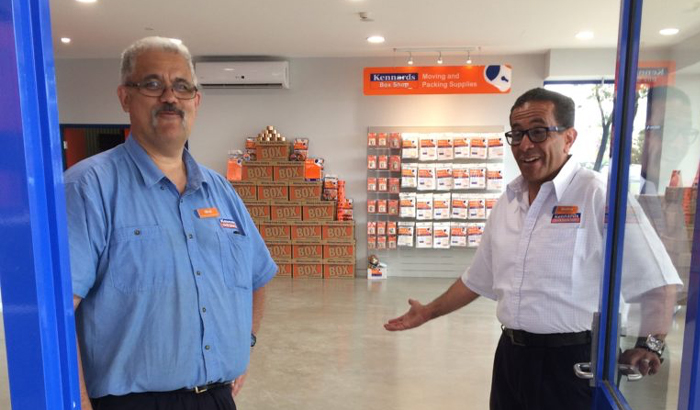 Here are what some of our customers have to say about Kennards Self Storage Castle Hill:
"The team at Kennards Castle Hill are some of the most helpful and pleasant to work with. Thank you guys for taking good care of us!
great personalised service. staff warm and accommodating."
"Very helpful, friendly and easy to deal with, thank you."
"Staff are very friendly and helpful. I would recommend Kennards Castle Hill."
"First time using a storage center, staff were very nice and helpful. Easy access to your items any time of the day. When I called them up to cancel my storage room, they were still very nice and helpful to close out my account. Used their trailer for both moving in and moving out, helped a lot! Would highly recommend if you ever need a storage room!"
Mick, Medhat and Jim are looking forward to meeting all their new customers. Anyone can drop into the centre for a tour of the new building, just pop into the office and ask the team at Kennards Self Storage Castle Hill.