How can Kennards Self Storage help your business in 2020?

As 2020 is now upon us, what an exciting time to start fresh in-home or chase that start-up business idea. Located two minutes from Pacific Highway (and St Leonards Station), this completely covered and enclosed storage facility (right next door to the SBS studio) is perfect place to build that business. Here at Kennards Self Storage Artarmon on Fredrick Street, we support all businesses and have a variety of options no matter the scale of that business, and our services will help make your business shine.
So, let's talk about the services Kennards Self Storage Artarmon have that can help your business shine.
Storage Space
With large mini warehouses you can drive right up to, all the way to small one cubic metre lockers for those promotional material. We have storage of all sizes that can fit your business needs at very competitive rates. With no lock in leases or bonds, customers simply pay one months' rent in advance, should customers choose to leave within the month their rent is pro rata refunded, so customers only pay for what they use.
If we don't have the storage space you need, we will help you find one at one of our other fantastic 40+ centres around Sydney. We have all the size options, so you can run your business the way you want.
The Shop
Need to pack that last-minute delivery or pallet and out of supplies? Our Box Shop both onsite AND online offers a full range of packing supplies and not only do we sell boxes big and small, we also sell bubble wrap, archive boxes for filing, tape, plastic pallet wrap, blankets to protect those delicate items and both paper and plastic covering. So, whether your packing and sending or packing and storing, we have all the supplies you need.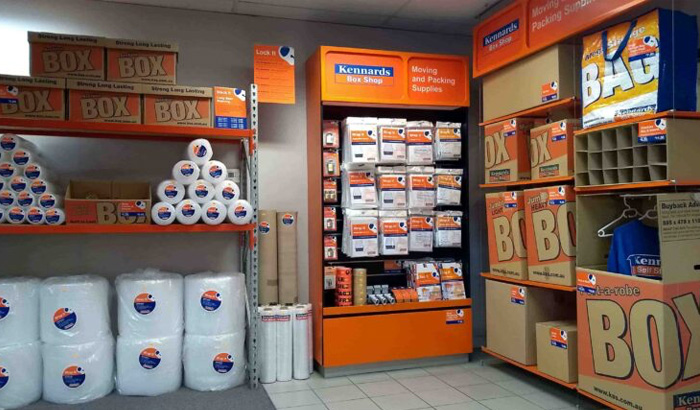 Save your business money!
Looking to cut costs to meet those targets? At Kennards we are all about trying to save you money, whether its buying back those used boxes or saving 5% off your storage fees simply for paying six months or more in advance.
Helping you get what you want, where you want
One of our popular services is our a covered receiving and dispatch loading area. This will allow you to ship your products directly to or from our centre to its location. Goods can be signed for from our trustworthy staff and you can be notified in real time arrival. We have 'walkie' forklift, pallet jacks, and trolleys. To help you get your goods from one area to another. We also have a fully enclosed trailer for hire to help move goods in and out. Moving in with the KSS trailer is free!
Amenities
At Kennards Self Storage Artarmon Fredrick Street, we have so many services that you can take advantage of while you store with us. We have a clean and friendly conference room with FREE WIFI. Whether it's just for a peaceful place to do your emailing or hold a meeting with staff or affiliates. There is also complimentary tea and coffee facilities onsite to ease those stressful days.
Looking to expand and go full Business Class?
There are also opportunities for those businesses looking to expand across the Kennards Self Storage network when holding storage in various locations. This service can offer you further savings and perks. Contact one of our friendly staff at any of our Self Storage locations to find out more.
So, as you can tell here at Kennards Self Storage Artarmon Fredrick Street we are more than just storage! Come and chat to our friendly team and see why you should store with 'The People Who Care'.
Author: Stuart Smith, Assistant Manager, Frederick Street Artarmon