We all remember the good old days when our mothers dressed us in hand-me-downs, that migrated from sibling to sibling and cousin to cousin, until so washed out, the original colour was anyone's guess.
We frequently wore sweatshirts advertising exotic locations where our relatives had holidayed. The third-hand garment feeling like a rather poor substitute for the trip itself. Sometimes even forced to wear T-shirts of football teams we never barracked for.
No more.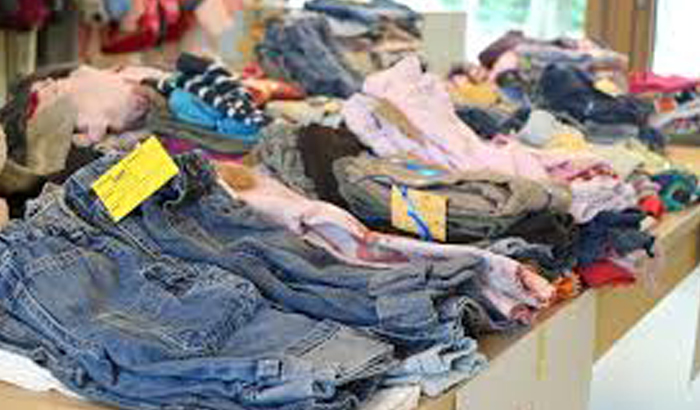 When once we might have awaited the next consignment of pre-loved kiddie wear from friends and neighbours, parcelled in nifty recycled supermarket bags, today we go online and select just what we want from the infinite number of second-hand items on sale. And when we're done with our own babies' clothes? We no longer pass them on, we sell them on.
Via Social Media, E Bay, Gumtree and other internet sites, we have transformed our approach to children's wear, turning us into informed consumers and canny salespeople.
Parents hit by spiralling costs see selling on their children's outworn garments as a way to recoup these expenses and free up valuable space at home.
Peer-to-peer selling has become big business for so-called 'mumpreneurs', allowing a quick buck to be made on what was once a haphazard and unprofitable process of passing on pre-worn items.
The cost of new clothing is the motivation. Children grow out of clothes before they've worn out so if people think they can make some of that money back, that's cash in their pockets. Twenty years ago people would have gone to the market stall or car boot sale to do this. Now, with social media, it's easier and more acceptable to on sell the used clothes.
Are you giving up valuable living space with boxes of baby cloths, or kid's cloths you have been holding onto that no longer fit? Is your house crammed full of baby equipment like high chairs, cots and toys that are no longer used? Get rid of it claim the space back and make a little money while doing it.
Kennards Self Storage Springvale has many affordable storage spaces in a range of sizes available for rent that allow you to store these "kiddy" items whilst they are being listed for sale online. Allowing you to free up that study or spare bedroom "storage" while you prepare for your child's next growth spurt.
Whether you're in Mulgrave, Noble Park, Clayton or Keysborough, Kennards Self Storage Springvale have the sizes and the 24hr access to suit every parents needs in Melbourne's south eastern suburbs.
Call us now 9547 9311, 7 days a week.