Early Innovation in the 1970's
In 1972 Neville Kennard, who was then Managing Director of Kennards Hire saw his first "Mini Storage" property when he was on a work trip to the USA. It was a simple set up with rows and rows of garages with roller doors at a facility in California.
Always the entrepreneur, the storage idea clicked in Neville's mind – he loved it! So he came back and in 1973 built six 6m x 3m storage units behind the Kennards Hire Centre at Newbridge Road, Moorebank - Australia's first self storage! This was pioneering and experimental. It was developed with no market research, just instinct and courage.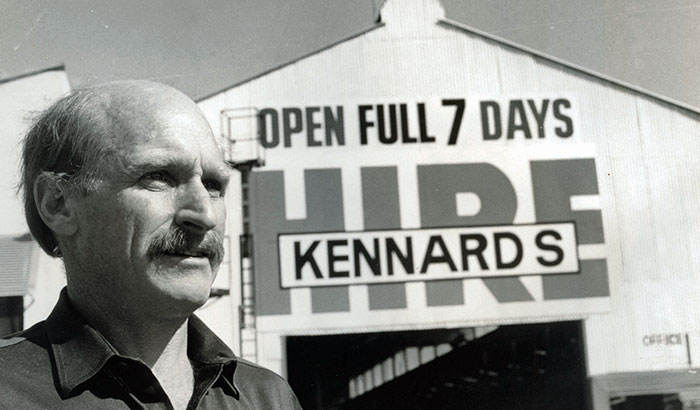 Neville Kennard
A simple sign was put out the front of the property saying "Kennards Mini Storage" and a small Yellow Pages advertisement was placed. The spaces rented. The concept was proven, so more storage units were progressively built until the available land was fully developed with about 100 storage units.
In this time, despite the success in self storage the focus of Neville's energy and efforts remained on growing Kennards Hire. The self storage received little more attention for a few years.

The 1980's
In 1981 a big derelict wool store building in Fortitude Valley, in inner Brisbane was on the market (Pictured). The decision was made to form a company to specialise in developing, owning and operating stand-alone self storage facilities. Thus Easi Stor Pty Limited was formed to acquire, develop and market a chain of self storage centres with its first project being Fortitude Valley. Opening in 1981, this was Queensland's first self storage centre.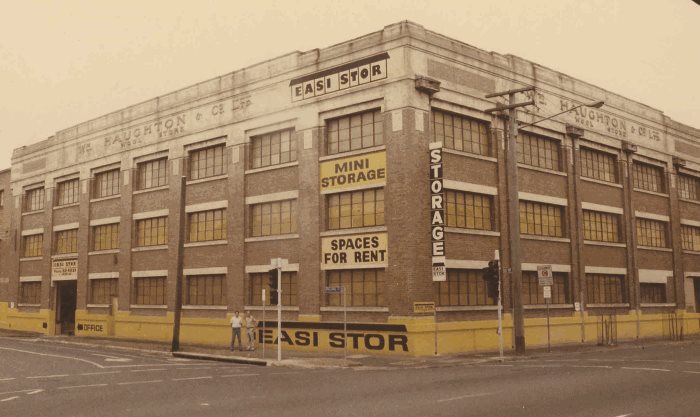 Kennards Self Storage Fortitude Valley QLD
While Kennards Hire still received primary focus, the acquisition and development of self storage had begun in ernest. Properties for self storage were acquired and developed in Sydney, Newcastle and Brisbane throughout the decade. Early projects were crude and unrefined, but improvements and innovations were constantly being introduced.
Self storage was Neville's new love. He was constantly refining and tweaking the construction, while building a business with operating procedures, processes and systems. Neville handed leadership of Kennards Hire to his brother Andy, in the mid 80's, and he then dedicated his energy to self storage. They remained partners in all their business activities.
During the 1980's, a total of 9 self storage centres were opened. Each one better than the previous one.
The 1990's
Even after the real estate boom of the late 80's, the company continued to actively look to grow throughout the next decade. The style of development was improved and individual door alarms were introduced to all developments from 1994.
1991 the decision to use the name Kennards Self Storage was made and the 9 properties were re-badged.
Sam Kennard became the Managing Director in 1995, and Neville continued to help with acquisition and development.
In 1997, the company began its Melbourne expansion with the acquisition of Huntingdale.
The focus on particular investment criteria sharpened and properties were selectively acquired and developed. There were 14 new Self Storage Centres acquired and developed in the 1990's.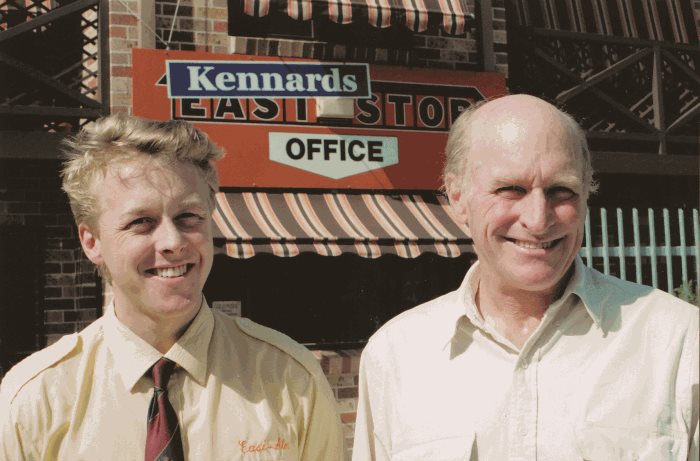 Sam Kennard and Neville Kennard
The Noughties
The growth programme continued, and two properties were opened in Adelaide in 2000-2001. Wine Storage was developed and introduced to numerous locations.
There are now 15 wine storage locations.
Up to 2003, the company added another 2 new self storage centres.
In 2004, Kennards Self Storage teamed up with Valad Property Group to successfully acquire 24 self storage properties operating under the Millers Self Storage brand. Valad is a Real Estate Investment Trust (R.E.I.T.) listed on the Australian Stock Exchange, with investments in office, industrial, bulky goods retail as well as self storage.
The partnership was 50:50 in the acquisition of the Millers sites. Kennards retained independent ownership of its existing properties and manages the business for the joint venture.


The 2004 acquisition grew the Kennards group to 56 locations in total.
The Millers properties were re-branded to Kennards in 2005.
In 2007, the Kennards Valad Partnership acquired 8 locations in New Zealand. The properties are located in Auckland and other North Island provincial areas.
By 2008, the Kennards Self Storage brand has 69 locations open with 3 additional locations under construction or planning. It has in excess of 400 000 square metres of space available and employs over 200 people.
In June 2008, Kennards agreed terms to acquire Valads interest in the partnership that commenced in 2004. The acquisition involved 38 properties. This is a significant step for Kennards which remains privately owned.
The Tweenies
At the beginning of the decade the company was operating 69 centres, with 48,631 storage units and 429,282 square metres available. Since 2010, the company has continued its expansion with growth of existing centres and addition of several new locations.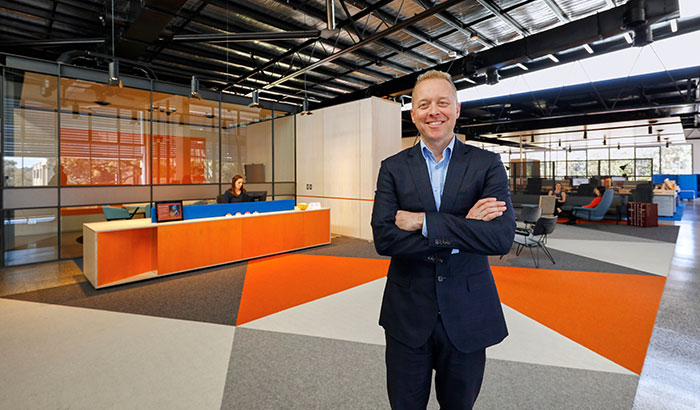 Sam Kennard in new Macquarie Park Headquarters

The period began with the $27 million purchase of the Moore Park centre in 2011.
The following year, sadly, the entrepreneurial founder of the company, Neville Kennard, passed away on June 3rd, 2012. Nev's sons, Sam, Walter and Jim now own the business and proudly perpetuate the organisations great Brand and legacy in private family ownership.
Life begins at 40! 2013 is a significant year as Kennards Self Storage celebrated 40 years of operations since its inception in 1973.
Six new locations were also opened in 2013, including the $17 million acquisition of a four centre portfolio in South-East Queensland. Kennards had grown to 79 locations and 510,000 square metres of space at year-end. A very different business to the small experimental endeavour started by Neville 40 years earlier in Moorebank.
In 2015, after more than 15 years' operating Team Headquarters at the Sydney suburb of Homebush, the company relocated THQ to its new flagship location in Macquarie Park, in Sydney's north. With space to grow, the relocation places KSS alongside many multi-national corporate headquarters. It was an opportunity to reset and reposition the company for the future with significant enhancements in systems and technology made in the transition.
Steady progress of acquisition and development continued throughout all KSS markets, adding new centres and expanding existing centres every year.
By 2019, the company has grown to 91 operating locations, with over 66,000 storage spaces and in excess of 610,000 square metres of rentable space.

The Roaring '20's
While the new decade caught the flu; KSS continued investment and growth. Opening three new locations in 2020. By 2021, the company opened its 96th location.
In 2022 new locations were developed and opened in Auckland, Brisbane, Melbourne, and the South Coast of NSW.
The company also expanding with plans to undertake mixed use development including retail, residential and drive-through restaurants.
In October 2022, KSS opened its 100th location with the acquisition of Eveready Mini Storage in Nowra. The company intends to completely redevelop the property.
2023 marks 50 years since the bold experiment, initially building 100 storage units in Moorebank, in 1973.
While still family owned and managed, in 2023 KSS has passed 77,000 spaces available operating from 101 locations.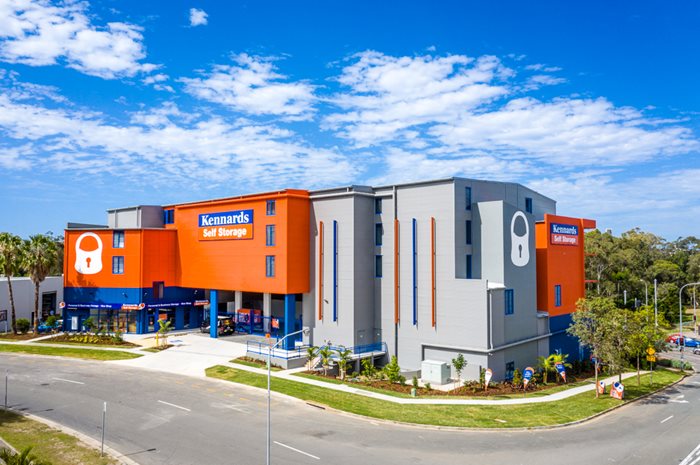 Kennards Self Storage Southport QLD