The Redland Bay area has long been the place to spend a lovely day out on the water, its family friendly streets and parks are a high point of the day. But that's not all this great area has to offer. With the recent COVID impact across Australia we have seen housing prices grow and the Cleveland area is no exception.

In the Redland Bay and surrounding suburbs, the median home price is sitting at $696,250, and the average rent at $550, this suggests property owners could potentially earn a 4.11% increase in gross rental yield.

Property investors have seen a 3.92% gain in the Redland Bay area based on an increase in median home prices for the past three months.

They believe that homeowners and real estate investors betting on the Redland Bay area including Cleveland and Ormiston, can rest assured about this QLD suburb's performance. The suburb saw median home prices rise by 19.14%.

Cleveland is typified by the small communities which sprang up over a century ago to take advantage of the bayside lifestyle. Water sports, fishing, picnics and boating are very popular pastimes at the Point itself all year round, with walks out to the tiny adjoining King Island at low tide, a must for every adventurer.

The Suburb of Cleveland is located in south-east Queensland, about 26 kilometres south-east of the Brisbane CBD. Cleveland is bounded by Moreton Bay and North Stradbroke Island in the north and east, Gold Coast and Logan Cities in the south, and Brisbane City in the west.

With all these great attributes Kennards Self Storage has invested in the Cleveland area for its 18th Queensland centre.

Kennards Self Storage are a famous household Brand when it comes to anything storage and packing. Especially when decluttering to prepare a home for sale, the no lock in contracts, no leases and even pro rata refund offered by Kennards Self Storage is a go to for many looking to store their belongings.

This exciting new Kennards Self Storage development is conveniently located on 78 Shore Street West, Cleveland and is set to open early August!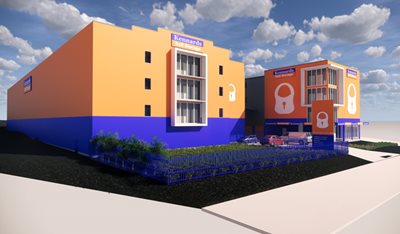 Whether you need to put your gear in storage while you are travelling for the holidays, a tradie needing to store your tools and equipment, or you're a sales rep on the road, who is over have the boot and garage full of point of sale or you are just looking at decluttering the family home. At Kennards Storage we have you covered with storage units from 1 cubic metre to 27 sqm mini warehouse, and of course lots of sizes in between. At Kennards Self storage Cleveland we will even have space for the boat and caravan!!

As a family owned and operated Australian business, we believe the little things make all the difference, offering 24-hour access, the latest in security monitoring, meeting room, delivery concierge service to handle inbound and outbound deliveries and tea and coffee facilities.

Our new storage centre will provide under cover unloading and loading areas to protect you and your goods from the elements. Our complementary move in trailer will be available to help you move your things into storage.

And of course, Kennards Storage centre is not complete without the Kennards Box Shop, the one stop shop for all your packing boxes and moving needs.

Visit the Kennards Self Storage website and head to the Box Shop.

Box It – Will show you all the boxes we have to offer, plus the sizes and the price of all boxes that are available at majority of Kennards Self Storage centres. (Buy 10 Or More of any size box and Save 20%).

Wrap It – Has all the different sizes of bubble wrap, packaging paper and also has a Protection Blanket.

Pack It – Offers the mega bag pack that comes with three mega bags and are great for moving linen or jackets. single bed, king, queen bed mattress covers, 3-seater lounge cover and a twin vac bag pack. They are good for moving the items in the outdoor weather and storing in a storage unit, to protect from the elements.

Tape It – The place where you can find your strong storage tape, or fragile tape to wrap around the boxes of delicate items. You can find dispensers that will make the job that little bit easier. Marking pens are available so you can write the contents on the boxes and where it belongs.

Reservations are open now. Call our friendly customer care team on 1800 658 855 to discuss your storage needs today.