Lockdown is starting to ease. Hibernating and isolating for many is drawing to an end. What has only been a few stagnant weeks out of our busy lives has defined most people's perceptions of 2021. It is the year we were given a list of things we couldn't do due to Covid-19 restrictions.

Our autonomy regarding all things modern (going to the cinema, nightclubs, grabbing a Starbucks or getting a manicure) was suddenly taken from our lives when governments across the globe decided to shut down social hubs and public places.

But harder still, our freedom for the more traditional past-times (visiting grandparents, browsing while shopping, getting a haircut and even hugging partners) was replaced with rules and guidelines to minimise the risk of Coronavirus infection.

After the biggest social, economic and political lockdown this generation has seen, many are left feeling grateful for the finer things in life, like their gardens or daily exercise. Others are eager to return to normality, with a pent-up passion to re-enact those favourite activities that lockdown stole.

Here's a list of the top 25 things to do after lockdown

1. Go to the zoo: Tourist and natural attractions have been negatively hit by the imposed lockdown. Support your local zoo or animal sanctuary during this tough time while also planning an educational day out for the kids

2. Go camping: We've all been desperate to get away, but some are maybe still uncertain about flying overseas. Get on the open road.

3. Get a real coffee: Supporting local, independent businesses is vital for economic prosperity, yes?But what about our own personal growth and how it's been hindered by our lack of daily double espresso macchiato or iced caramel mocha!

4. Book a romantic meal out: Time away from your house with your spouse will work wonders for your relationship. Call your favourite restaurant in advance to book a spot and look forward to date night like old times.

5. Go swimming: nothing can be more refreshing than jumping into a cold pool, especially during the 30+ degree weather. Read up on the hygiene standards and guidelines at your local pool to enjoy a safe and stress-free swim.

6. Go to the cinema: measures have been implemented in most UK cinemas to provide you with a socially-distanced experience. Try taking your own snacks and drinks and wear a face-mask to protect others.

7. Get a manicure: manicures, pedicures and massages are now available again.

8. Have a professional style your hair: box dyes, home trims and wearing hair accessories to hide greys are all products of the Covid-19 lockdown. Since salons re-opened on October 11th, appointments have been soaring. Booking in advance and taking precautions is necessary but supporting your local hairdressers and treating yourself to a new do should definitely be on your to-do list.

9. Go shopping for the sake of it: Spending your money on luxury items that were not available during lockdown is a sure way to boost the economy again. It's also stress-relieving and has therapeutic qualities.

10. Re-visit the gym: When will gyms re-open? When can I weigh-lift again? These were all questions plaguing those living through lockdown for physical and mental reasons.

11. Book a holiday: Never has this generation experienced a civil lockdown like the Coronavirus pandemic. International travel has never been globally restricted like this. So, to make the most of your newfound freedom, make sure you research low-risk countries and get clued up on all the travel guidelines. If you need to self-isolate after returning home, put plans in place with work and other commitments to do so.

12. Invite friends over for a film night: Netflix and catch-up apps have been a godsend throughout lockdown. But solo binge-sessions can become boring, so host a movie night or a marathon party for your favourite TV show – socially distanced obviously. Get some boxes for storage and pack the clutter so the place looks good.

13. Get a massage: working from home may have caused tension in your body from improper office equipment. Or maybe the stress of lockdown has caused your muscles to seize up. You may have even pulled a muscle or overworked your legs from running or walking during quarantine. Check out your local massage parlour's website for guidelines and bookings.

14. Visit friends and family: this has been one of the most difficult times for loved ones who live both far and away. Making time to visit your family and friends is highly important. Use online tools like government and council websites to check social-distancing rules daily.

15. Go to a fitness class: organised exercise and people? What a thing we have missed! After lockdown outdoor yoga, strengthening, Pilates and many more classes are on the rise. Check your local park info, or even reach out to personal trainers in your area who could do with the new clientele.

16. Go fishing: get back to nature (and out of the house) by going on a fishing trip. You don't have to be an expert to do this: simply head down to your local store or shop online for basic equipment. Make sure you choose a legal spot and use the right bait for the water-life in that area.

17. Visit somewhere for a drink: pubs and restaurants are re-opening – what a luxury we have missed! Having a coffee or your favourite tipple outside of your own garden is something to look forward to – and, you guessed it, helps support our local establishments that are in need of your custom.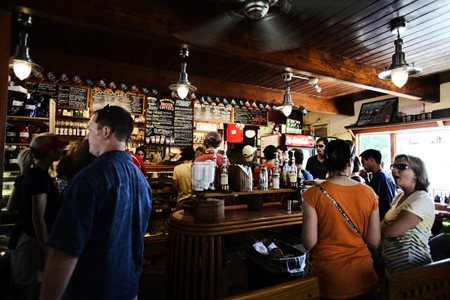 18. Host a BBQ for friends: 2020 has been the summer of BBQ's. There are plenty of tips on how to cook the perfect spread, but also on how to stick to guidelines and social distancing rules. Make sure food is not passed around and is low-prep to avoid cross-contamination. Asking people to bring their own plates and cutlery is also a good idea – and saves on doing the dishes!

19. Play golf: it's outdoors, it's fun, it's something fun and care-free to focus on. Give plenty of room between yourself and the players in front of you.

20. Go out for fast food: learning to cook has been one of the benefits of lockdown. But there's no denying we've all missed that cheeky cheeseburger and fries at our favourite fast-food joint. Say you'll treat the family and head to the drive-thru today. Just remember to dispose of your litter properly!

21. Take the kids to the playground: when has a playground trip ever been declined? Easy family fun and plenty of fresh air to make up for those months cooped up inside. Take some snacks and hand sanitiser for when the kids come back from the bars or swings. Keep a close eye on little ones at all times as other children will be present.

22. Enjoy Christenings and Weddings: ceremonies like this were also banned, resulting in many families across the world postponing celebrations and milestone events. But now restrictions are lifted, and loved ones are again welcome to get together to celebrate new lives and loves.

23. Work on the Garden! gardening boosts your mental health, can strengthen your immune system, and most of all, gives you a sense of purpose. There's nothing like the sense of achievement you feel when you grow some vegetables or flowers from seedling to bloom. Joining a gardening club or a joint allotment is also a great way to make new friends. It also lets you see your current ones – within social distancing guidelines, and outdoors, of course.

24. Visit a food market: it's all about local trade and fresh produce now, lockdown has taught us that. Make a special event of dinner time and plan ahead. Write down your recipes and collect the ripe ingredients at your local farmer's market or fish stall. It's also great fun to have a wander and pick out some interesting new treats!

25. Go kayaking: the great outdoors is your friend this summer. Why don't you and a member of your household rent a kayak or canoe for the day and take in the vast scenery at your local river or lake?

Whatever activity you choose this summer, you can do it easier and more quickly with the use of a storage space. If you need a place to put your Golf Clubs, Fishing equipment or Campervan, having a quick efficient storage solution helps you maximise the time you are having fun versus digging your items out of the attic or from a room that can be used for something else.

Kennards Self Storage has easy access individual storage spaces that are accessible 24 hours a day and there are over 90 centres in Australia and New Zealand, so there is one close to you!!

You will also find moving boxes and storage unit prices. There are a lot of cheap storage solutions out there but ask yourself are you getting bang for your buck.

Kennards Self Storage has alarmed spaces. Back to base CCTV Monitoring and no lock in leases,
Kennards Storage prices are fair and transparent. The website has prices easily viewed for every type of size needed. Prices are simply affected by supply and demand. Renting one is as easy as clicking the keyboard a couple of times. We will even cover your insurance for the first month to the value of $30,000. Sydney Storage prices start at $30 per month for a 1 metre by 1 metre locker. We can even rent you some storage shelves for your storage unit to help you maximise the use of your space!

If you are sick of lockdown like we all are, create the space for change and get out there. Let Kennards Self Storage help you!