The Kennards storage centre at 565 Woodville road is one of the first generation, dedicated storage centres built by the late Neville Kennards in the 1980s. Serving its first customers in 1985 as "Easi Store Guildford", as it was known back then, the centre helped set Neville and eventually Sam, his son and now CEO onto the journey that has lead Kennards Self Storage to be the famous household name that is now.

Western and South Western Sydney has undergone incredible growth over the last 10 years. We have found demand for storage space continues to outstrip supply with several new greenfield locations in the pipeline. Along with building new sites, Kennards has maintained a commitment to revisit its older locations to update and expand them to cater for a more modern and sophisticated storage customer. Very popular with many enterprising local businesses as well as regular residential customers, the 565 Woodville road storage location was one of the last that had not been renovated … until now.

Regular customers will have noticed the brand new driveways, improved drainage and higher security access gate at the rear of the property, providing an easy extra entry to the centre via Rawson Road. Passing traffic along Woodville road will have noticed the megaproject that has been stage one of the project climbing out of the ground.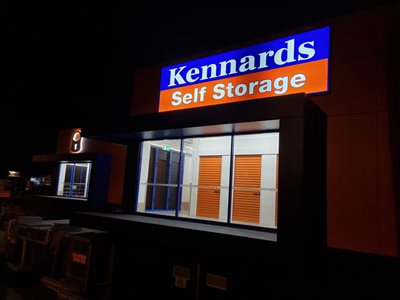 Despite the ongoing ups and downs of the COVID-19 pandemic, the Patterson Building Group, combined with the team at Kennards were able to open stage 1 of the expansion in late 2020. Constructed in place of a former Kennards Hire Services compound that had been used for Open Vehicle, Truck and Bus parking; the new building is three stories and presents a far more prominent face to the traffic travelling along Woodville road. This video taken during construction demonstrates the size of stage 1.

With 370 brand new storage spaces, making up over 3,600 square metres of fresh available space, the new building is that much-needed addition to the local storage inventory. Significant and much in demand features of these new spaces include individual alarms and 24-hour access. Features that are not widely available in many older storage centres across most of the Parramatta and Fairfield regions of western Sydney. Likewise, the spacious new Box Shop is quadruple the size of the old 1980's era version, allowing the team to showcase their entire range as well as demonstrate different size spaces in their 'Disco Room', coloured display space.

Buildings 2 & 3, will add a further nearly 5,000 square metres and 500 spaces to what will be a centre of total capacity in the order of 1,000 available spaces for customers. These two additional buildings are slated for construction soon.

Our team onsite; lead by Kaio Tang, Centre Manager had been busily getting spaces, the retail showroom space and all other facets of the centre ready before the lockdown earlier this year. A full book of reservations helped many customers move straight into their new spec spaces. "Customers are needing and demanding a better experience," said Kaio. "…And the new building, twin high clearance goods lifts, better lighting, alarms and security features of the new site deliver just that".

So feel free to drop in and say hello to Kaio and her team. Book online now as spaces are selling fast.