If you guessed Storage you are bang on.

Beach huts, holiday homes and now a Kennards Self Storage. Sure, our huts may be a little different to those beach lined boat sheds but on the flip side they don't come with the costly price tag.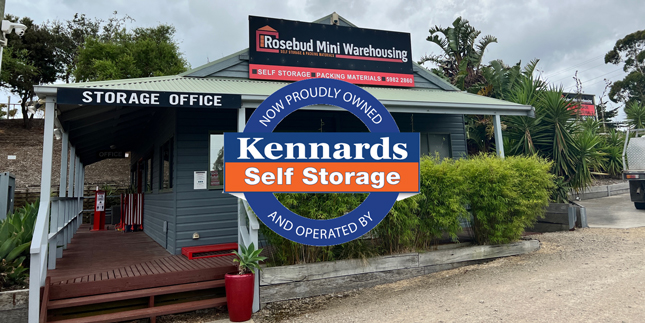 Located 75km from Melbourne's CBD, Rosebud is best known for its camping foreshore, bay trails for walkers and cyclists and iconic beach huts.

When the opportunity came up to acquire Rosebud Mini Warehousing we jumped. It was a fitting location for our growing Melbourne portfolio. The centre offers 565 storage units across several parcels of land giving us plenty of room to grow and diversify. It also offers prime exposure located on the major arterial Boneo Road and the junction of the Mornington Peninsula Freeway. A tidy 2km walk to the waters edge.

Through the pandemic we have seen the demand for Self Storage on the rise. Self Storage has given consumers the freedom to shake things up a little. In fact, we've seen it all, customers who have let go of their inner city 2-bedroom apartment to enjoy the coastal breeze. The couples who need to store the spare bed to make way for new home office. The retirees who got the phone call from the kids asking if they can move back in. That's all before the surge in Jet Skis, Caravans and Boats. Self Storage gives customers the freedom to change without the long-term commitment. Customers can stay as long as they need. They call the shots. When it's time to go, we credit back all unused rent, no fixed lease, no hidden fees. Customers simply pay 1 month in advance. They Lock it and keep the key.

So why choose Kennards Self Storage Rosebud? We provide an exceptional solution for customers looking for Self Storage in the following locations: Rosebud, Rosebud West, Boneo, Main Ridge, McCrae, Arthurs Seat, Main Ridge, Dromana, Red Hill, Safety Beach or anywhere along the Mornington Peninsula.

Rosebud marks our 14th property in Melbourne and nearly 100 locations around Australia and New Zealand. We are one of Australia's most prominent Brands, and Kennards remains family owned and operated. Which is increasingly rare and unique in this era.

The attachment of the Kennards family to the business has seen it develop an impressive reputation that maintains a culture of engagement and commitment that is difficult to see elsewhere. The commitment to customer service and exceeding expectations is threaded throughout the organisation.

Committed to providing a service that stands out from the crowd. Every element of our operations is designed with the customer as the main point of focus. This Quality Commitment is embedded in the minds of our people in all their customer dealings. Customer comment on the simple attention to detail and cleanliness of our locations.

As owners of a property that bear the Kennards family name, we are committed to the enduring life of these assets. The maintenance and upkeep of every property is important. This means customers store in a property that is of the highest standard and condition. Our buildings are compliant to relevant codes and our building protection systems are maintained and certified. Customers can feel assured that their goods are in high-quality, well-maintained properties - owned by a family that cares.

So, what about the security? It's the most frequently asked question we receive from customers. As part of our Store With People Who Care values we invest heavily in our security systems, training and daily routines. It's something we are really passionate about. From security fencing to flood lights, we work hard to protect against danger, damage, and loss. Customers can enjoy peace of mind with our security practices. We offer a selection of security services to meet your needs. Electronic security entry and exit gates controlled by your own unique gate P.I.N, Flood lighting, CCTV throughout, supported by an after hours back to base monitoring service, and wait for it, our team will personally check your padlock every single day.

The centre is equipped with Digital Closed Circuit Surveillance Systems. Each camera is strategically placed (mounted) to record all movement in areas of high activity. These digital recording are securely stored for future access and review if and/or when the need arises. In addition, we regularly monitor to enable swift repair of faults and to ensure that the system is always functioning as it should.

Our Sophisticated computer-controlled gate access systems only allow Kennards Self Storage customers into the centre. Each customer is given a unique P.I.N. which identifies and authorises entry through the automated gate system.

At Kennards Self Storage we undertake lock checks of every lock, every single day. This is a simple and effective practice to deter problems and monitor the condition of the space.

Security systems are obsolete if they do not work. We have a regular regime of system sweeps to reveal faults and problems. Any problems revealed are then rectified.

Your padlock is a very important barrier and protection for your belongings. Customers lock their space and keep the key! The Garrison Series of padlocks exclusively available at Kennards Self Storage have been chosen to best accommodate the self storage environment. Our decades of self storage experience have allowed us to offer the best solutions and best value.The locks are durable and robust. They are chosen for their corrosion resistant materials, such as brass and stainless steel, anti-pick mushroom pins and hardened shackle.

Another frequently asked question is how do I get my goods to you?

Don't break a back moving, we have many solutions we can assist with. There is a wide range of solutions available including flatbed trolleys, mattress trolleys, pallet jacks, special client rates at GoGet for van/truck rentals. We also have an extensive list of removalists recommended by our customers to share if you need that little bit of help. It is just another way we can help ease your mind whilst storing onsite.

Our centre is open 7 days a week with access from 6.30am to 8.00pm. This gives customers the freedom to move in after hours or collect items from their unit at a time that suits them.

We're more than just a space. Our people make the difference. Our properties are maintained to the highest standards and our systems and processes have been derived from our experience and customer feedback.
We've worked hard to make sure on moving day your storage experience is seamless. From digital sign up, to after hours access to insurance, our team take the time to find you the right fit.

So, if you are looking for somewhere to store your Jet Ski or maybe even your spare bedroom, drop on in and we will show you around. Spaces start from 5sqm to Mini Warehouses with plenty of open storage options for Boats, Caravans and RV's or if you need boxes, our centre has a stocked retail shop for all your moving boxes, supplies and packing needs.