Kennards Self Storage are excited to confirm that we are undertaking a significant expansion and improvement of our 565 Woodville Road Guildford storage centre.
Located in the heart of the Cumberland council district in western Sydney; the Kennards Self Storage Guildford centre was one of our first dedicated centres built. And one of the first our, at the time very young CEO Sam Kennard had a hand in building.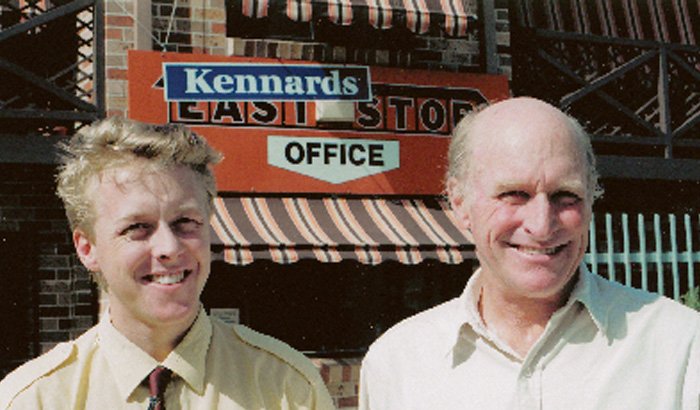 The centre opened in 1984 with around 540 storage spaces. At the time, secure gate access, hoist access to upper levels and smooth glide roller doors were an innovation. Sometime later Kennards Hire relocated from the south-western yard on the corner permitting the use of the space for larger vehicle and container storage.
Time has moved on and the need to modernise and meet our customers' needs has never been more urgent. There will be significant numbers of new storage units built, each with our up to date high security features. The standard now has individual alarms and integrated 24 hour PIN coded access with more expansive high definition CCTV and alarm response patrols available for immediate dispatch.
The new self storage buildings will be prominent on Woodville road and feature our modern, expansive new retail design with a WiFi enabled conference room, WiFi able working "Hot Desk's". With new undercover loading areas and large ride on lifts customers will be able to transport anything they need to their new space.
Demolition is planned to commence later this year with construction progressing into 2020.
The project will be staged and begin away from the existing self-storage areas. It will commence with the demolition of the open space areas and buildings in the south western corner of the property nearest to Woodville road. The centre management team; Frank & Cristina have been working hard to minimise the impact and we expect no disruption to access for existing self-storage unit's during the initial works.
We thank everyone for their understanding in our efforts to improve our self storage facilities. Kennards Self Storage is proud of the standard of our service and our properties. We will continue in our efforts in this regard.
Please feel free to contact Frank and Cristina at the centre if you have any questions regarding these changes.
Kennards Self Storage
Phone: 9632 2922
guildford@kss.com.au