In a delightful surprise new Headquarters Office has won the 2015 Australian Interior Design Award for Workplace Design (any scale).
We engaged SJB Interiors to capture the culture and essence of our family business. Our business commonly adapting re-uses of existing obsolete buildings. So undertaking this for our corporate headquarters makes sense.
SJB successfully captured our innovative, collaborative, fun and open culture, while also including our distinctive Brand colours in subtle and unexpected ways. We are pleased the office illustrates the nature of our open, candid, relaxed yet professional family business.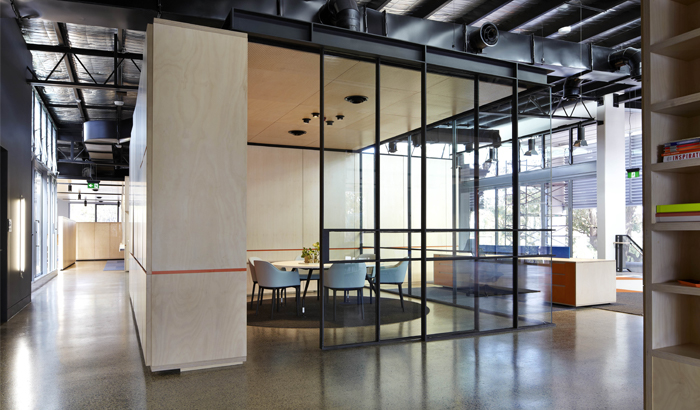 Read the Australian Industry Design Awards Jury Comment:
Jury Comment
The interior introduces the organization, Kennards Self Storage, to a completely new way of working. Design has been harnessed as a business tool that transforms the work-place and the business. The interior reflects and reinforces the nature of the business, yet transforms the work environment. Thoughtful consideration of volume and scale is evident. A challenging warehouse shell has been transformed into an appealing series of spaces for administration, work and meetings, maintaining generosity of height and space and achieving an intimacy conducive to the purpose of each area. This project is robust, sophisticated and functional.
Design Statement
Kennards Self Storage is in the business of boxes, warehouses and storage areas. The brief was to design a new work environment that encourages increased staff interaction and that says something about the nature of the business. The meeting rooms were designed as plywood boxes and the circulation became part of the leftover space surrounding the structures. With this simple design premise for the large elements, SJB Interiors introduced elegance with refined details on a small scale with joinery, steelwork and materiality. The Kennards team was intent on the outcome having a wonderful sense of design but not being over-designed. This influenced SJB Interiors' design premise in many ways: a restrained budget, selection of simple materials and paring back the design to only what is necessary.

Source: ARCHITECTUREAU