Dedicated Account Management
We know managing multiple storage locations with different suppliers is a time consuming and costly exercise. Join Kennards Business Class to enjoy tailored solutions for corporate customers.
Our dedicated Account Managers have intimate knowledge of the storage industry and are highly skilled and trained in helping businesses maximise the benefits of their storage network.

Whether your business is looking to reduce storage suppliers, increase the number of units you use or simply tidy up your Operation, our Team can recommend, design and implement a long term sustainable solution that lets your business retain control in a simple and uncomplicated manner. Ongoing we provide support through regular reviews, feedback and a proactive hands on approach.
As an Australian owned family business we manage all our properties providing consistency in service and offer across every single Kennards location. Customers have the flexibility to upsize or downsize space according to their business demands with information about their storage units at their fingertips.
To Contact our Business Class Manager e-mail Fiona Harding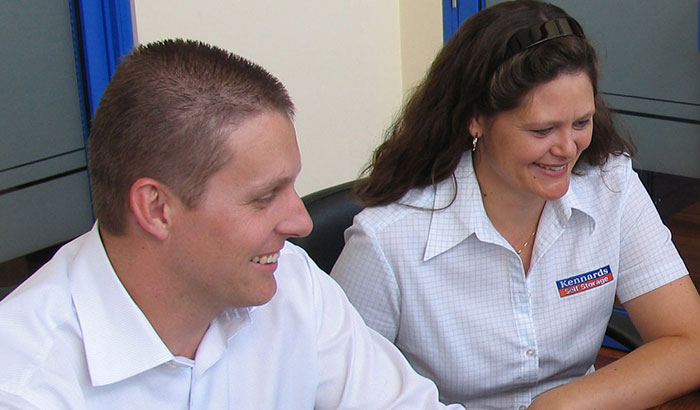 Single Invoice
Business Class clients receive absolute transparency over their account. No longer does your Accounting Team need to process invoices unit by unit. Our single consolidated invoice captures all your storage units in a concise easy to follow format. With customisable features your business can choose from monthly, quarterly, six monthly or annual accounts. Invoices can be further customised to group units by Brands, Cost Centres, Divisions or Teams or by State.
On the invoice units are itemised by location, unit number and all associated charges complete with a unit summary so there are no hidden surprises. Our team work with clients to provide quotes for PO's, unit reports and account analysis.
Streamline & Simplify Supplies
If your business works with multiple storage companies, talk to our Business Class team and learn the value we offer. We reward clients for their business and help accelerate storage productivity through consistency and structure. That means greater control and less administration. Our team can even help plan the project so there is minimal disruption for any relocation.
Financial Rewards
Business Class customers are rewarded for choosing to 'Keep it at Kennards and receive outstanding Corporate rates on any unit rented, this includes financial rewards which increase as more space is occupied.
Rewards are ongoing and apply to each and every unit rented. That's one more reason to reduce suppliers and consolidate your space with us today.