Charities
Aberdare Ranges Primary School
GVNF Australia and 6,700 local Kenyans known as Internally Displaced Persons (IDP), formed a unique partnership to build, establish and expand the Aberdare Ranges Primary School.
The vision of the partnership is to provide an excellent education of international standard.
The school opened in 2010 and its first 120 students began school in May 2010.
To learn more visit Abedare Ranges on You Tube clip1 and clip2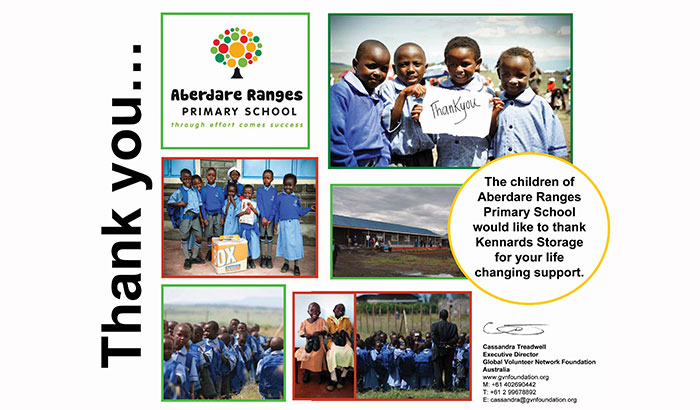 Hamlin Fistula Ethiopia (Australia)
A charitable organisation registered in Australia to raise funds exclusively for the Addis Ababa Fistula Hospital, the Hamlin College of Midwives and Desta Mender, a farm and training centre for long-term patients. Kennards Self Storage supply Jumbo Heavy Duty Boxes to Hamlin Fistula to help with their shipments to Ethiopia.
Inside Self Storage - Kennards Assists Addis Ababa Fistula Hospital in Ethiopia
To Learn more visit Hamlin Fistula Ethiopia (Australia)
Books for Charity
The Benjamin Andrew Footpath Library provides books to the homeless through hostels and a 'footpath' book club. KSS donates space for the storage of all these books.
To learn more visit the Footpath Library
Jilkminggan Clothes Drive
Toni & Guy Bondi Beach along with Enterprise Learning Projects collected clothing, kid's items, sewing machines and more to deliver to the women of Jilkminggan in the Northern Territory. These items were then used to create a 'pop up Op Shop', helping the women to develop existing skills of sewing and print making as well as provide work opportunities and economic growth for the entire community.
KSS provided donated storage space at several locations throughout Australia to hold all the donated items until shipping day. Discounted Kennards Boxes were also supplied.
The initiative saw over 500 boxes delivered to Jilkminggan.
To learn more go here
Rotary and Lions Clubs
These clubs provide service to others within the communtiy. They promote medical research, provide disaster relief both in Australia and overseas, provide leadership and education for youth and provide for the homeless. Both clubs strive to make the world a better place through practical efforts.
KSS donate space throughout Australia to Rotary and Lions.
To learn more about Rotary
To learn more about Lions

Lou's Place
Lou's Place is a safe place for women, the only daytime refuge for women in Sydney who are in crisis, homeless, feeling isolated or in need of support.
Donated Space is provided to Lou's Place by KSS to store donated clothing and items for future use.
To learn more visit Lou's Place
Fairy Sparkle Happy Gardens
Devoting her life to improving the hospital experience for patients, especially children. Bringing smiles to sad faces, lifting spirits and inspiring those that need it. One of Fairy's initiatives is to build a 'Happy Garden' in every Hospital.
KSS proudly support Fairy with donated space for her cause.
To learn more about Fairy go here
One Voice
Providing the first mobile Shower Bus for the homeless in Melbourne and Sydney. The self-contained service carries 2000 litres of water on-board which can heat instantaneously and shower approximately 40 people.
KSS supply donated space for items donated such as towels, soap and shampoo, while also supplying an outdoor space to house their mobile Shower Bus when not in use.
To learn more visit One Voice
Kindness is Catching
Kindness is Catching provide Winter Care Kits to the homeless in Sydney during Winter. The kits are made up of donated items such as face washers, socks, scarves, gloves, beanies, hand disinfectants, band aids and more.
A number of KSS centres throughout Sydney become drop off points for donated items during this time, also providing donated boxes and storage space to hold all the donated goods till they are packaged up and delivered out to the homeless.
Fair Game Australia
Fair Game Australia is a grass-roots not-for-profit organisation that inspires healthy communities through donating recycled sports equipment, using it as a tool to deliver health and fitness education programs.
KSS at Hoxton Park is proudly donating space for Fair Game Sydney, for the collected sports equipment before it's placed with communities and programs who have asked for their services. Donating sports equipment is at the heart of what they do. It allows Fair Game to educate young Australians, improve access to sport equipment, reduce waste and improve the health and lives of children in under serviced communities.
For more information about Fair Game Australia or if you know a community who may like our services, visit www.fairgame.org.au