Port Kembla is a suburb of Wollongong and The Illawarra and is just up the road from Warrawong.

The name "Kembla" is the Aboriginal word for "plenty [of] wild fowl".

Back in the day you could fish off the jetties at Port Kembla Harbour where during winter you could catch enormous amounts of mackerel. There are many species of fish in the harbour like John Dory which is excellent eating. You would catch Yellowtail and put it on as bait and drop the live bait near a pylon right to the bottom and most of the time you were guaranteed a John Dory.

The harbour also has a boat ramp that leads out into the ocean where the Five Islands Nature Reserve is situated and there are many great fishing spots around the area. Lake Illawarra is also a five minute drive where you can catch Whiting and Flathead due to the sandy sea beds.

The Shoalhaven Heads is only a 40 minute drive where you can enjoy a day of fishing or just enjoy the beautiful scenery and go and have a picnic. There are many different species of sea life including crabs.

Storing your boat or fishing gear at Kennards Self Storage Warrawong would be the perfect choice as it has 24hr surveillance back to base monitoring and it is well lit up at night in the undercover area for extra security. The 24hour access allows you to be on the water before the sun rises.
In these days of COVID you can have contactless sign up if that is your preference by jumping online to see what we have to offer, as we have many different size storage units if you have a lot of fishing gear or only need a small unit.
We offer both short and long term storage unit arrangements. Whatever your circumstances or whatever floats your boat, we have the solution for you.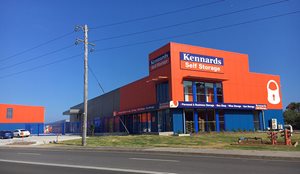 Come and meet the team. Maria and Todorka would love to hear about your fishing tales and help you with your storage needs. Kennards Self Storage Warrawong is conveniently located roughly 10 minutes from Port Kembla Harbour and Lake Illawarra on 251 Shellharbour Road Warrawong right across from Harvey Norman and the Adult Warehouse.