Kennards Self Storage have quietly acquired one of the last unused Masters Hardware stores for $35 million.

The 5.4 hectare property with exposure to Pascoe Vale Rd at Roxburgh Park was brought to Kennards by Savills off-market on behalf of HMC Capital after it became surplus to their plans.

Savills' Peter Tyson, Callum Stenson & Rick Silberman's handled the transaction with settled on June 30.

The former hardware store developed by Masters is 13,000 square metres in gross floor area, with 362 car parks.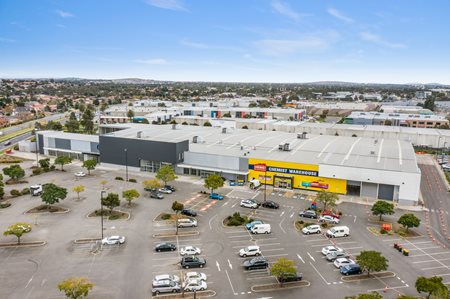 Kennards Self Storage innovative concept envisages a mixed-use scheme with retail, fast food, and self storage. The self storage centre will occupy most of the building, while retail users will fill spaces facing the car park. Three retailers already occupy a part of the building.

The existing 362 car parks will be more than the required for the new Kennards scheme, and the surplus car parking will be redeveloped for drive-through restaurants.

Kennards Self Storage will occupy 9,000 square metres of the existing building with a vast 2 level self storage centre. The new KSS project will be one of the company's largest, boasting over 12,500 square metres of rentable area and over 1,300 storage spaces. Each storage space will be individually alarmed controlled by PIN access. High resolution digital camera surveillance will be comprehensively installed throughout the building.

The sophisticated access control and high security technology will enable 24 hour, 7 day access for customers.

"We are very excited about the Roxburgh Park acquisition" Sam Kennard, CEO Kennards Self Storage explains. "When complete, it will be a flagship for the company in Melbourne's growing northern suburbs. We will equip with it the latest general of technology and design thinking to provide customers with the easiest, cleanest and most secure storage experience possible".

Kennards Self Storage Roxburgh Park spaces will range from lockers of one cubic metre up to mini warehouses 40-70 square metres. Lockers and small garages are ideal for personal storage use.

Kennards provide material handling equipment and their delivery concierge. This offers business storage customers the ability to efficiently handle small logistics requirements.

The new Roxburgh Park centre will complement the company's presence in Northern Melbourne adding to the existing Preston centre and Craigieburn, currently under construction.

In January Kennards Melbourne network grew with the acquisition of a storage centre in Rosebud, while having new development projects coming in Cranbourne, Craigieburn, Packenham and Brunswick.

In May Kennards announced their partnership with Gurner to jointly develop a luxurious residential retail project in the Adelaide CDB.

"Roxburgh Park is another adventurous project for our business" Sam Kennard says, "We have a growing list of mixed-use assets and developments. This strategy has enabled us to realise better value, superior returns and secure exceptional locations".

"In this market, we have acquired this large landholding and exceptional building for well below replacement cost."

"The Masters Hardware business developed to a very high quality building specifications and the structure is ideally suited to re-purposing for our use," Kennard says.

Savills' Peter Tyson commented, "buyers were attracted to the strong underlying real estate fundamentals with over 54,000 square metres of land zoned Commercial 2, which allows a variety of industrial use options. Like most capital city markets, Melbourne has experienced massive growth in industrial land values over recent years, which coupled with rapidly rising construction costs, makes the investment case compelling."

Kennards will proceed immediately with the self storage development while seeking tenants for the unoccupied retail and QSR spaces.