People store their precious belongings in self storage facilities for various reasons. But how many of us optimise the usage of our storage space? At Kennards Storage Gladesville, we have some suggestions that you might find useful in managing your storage space:

SAFETY
Always ensure that your items are stored safely in the storage facility. Your items must not present a danger to yourself such as falling or making you trip when you are retrieving them. Avoid stacking heavy items above head height or beyond your reach. It is a great idea to bring along a mobile phone for emergency contact. Invite your friends or family to help you move anything heavy or items beyond your reach.

STACK UP
Not everything needs to be left on the floor. Safely stack up your items to prevent trip-and-fall accidents. All heavy boxes should be stacked at the bottom and light boxes or bags on top.

REGULAR ACCESS ITEMS
Store regular-use items last after all other items so it will be positioned at the front of your storage space within your reach.

SHELVING
At Kennards Storage Gladesville we encourage our storers to rent or purchase our shelving for their storage spaces. We offer a variety of shelving selections for our storers to choose from. It is a great way to organise items such as stacking up folders, boxes, computer servers, tools, small appliances etc.

USE QUALITY PACKING MATERIAL
It is frustrating and heartbreaking to pick up a moving box that is torn and having precious belongings cracked or crushed. It is important to use quality packing boxes to ensure that your items are correctly stored with no accidents. You can easily purchase our quality packing boxes and materials from Kennards Gladesville centre or order online at https://www.kss.com.au/box-shop/box-it

PATHWAY
It is recommended to leave some pathway to enable you to reach and retrieve the items safely.

CLOTHING AND SOFT TOYS
Maximise your storage space by using vacuum sealed bags to store clothing and soft toys which can be stacked and leave more room for other items.

STUDY NOTES, TAX INVOICES, MANILLA FOLDERS, RECEIPTS...
Archive boxes are the best solution to store your personal keepsakes or records. Our single piece and lightweight archive box are available in all Kennards centres at our Box Shop.

BOOKS AND KITCHEN ITEMS
It is best to use Jumbo and Medium sized heavy duty moving boxes with double layer thickness. These boxes are stronger and more stable for stacking purposes in your storage unit.

DISASSEMBLING FURNITURE
Disassemble your table legs, chairs, bed frames and other furniture to save you some space.

FRIDGE, DISHWASHER & WASHING MACHINES
Ensure that all water, moisture and ice in the freezer is drained and dried before storing it in the storage unit. This is to prevent any unpleasant smells building in your storage unit or excess water seeping out. Leave the door ajar to avoid moisture retention.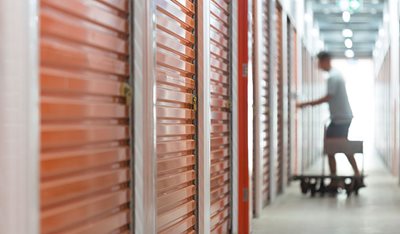 MATTRESSES
Wrap up mattresses with the king or single protection sheets (available in our box shop) and store it vertically within your unit.

LARGE PICTURE FRAMES, FLAT SCREEN TV AND PAINTINGS
Use Kennards picture frames and 2-piece boxes to store your precious pictures and paintings. Alternatively, use 5 metres cardboard boxes to wrap it up.

REMOVALIST
Communicate with your removalist on how you would like your items to be stored and be present onsite on your move in day.

LABEL YOUR BOXES AND CREATE A LIST
Label every single moving box and list the items that are in the box. Use your smartphone, take a picture of each box, make a list of every item and keep it filed away. You will need it before you unpack them.

BICYCLES
Pack your bicycle in a Kennards Bike Box and you will be amazed at how much storage space you will save.

BATTERIES
Remove batteries from the devices before storing them in your storage unit. This is to avoid battery acid leakages which can damage your precious device.

LIVE PLANTS
Self storage is not suitable to store live plants and they will die. Plants require water and sunlight to survive and it may attract pests.

LUGGAGE
Fill up empty luggage bags with extra linen or shoes to free up more space for your storage unit.

FORMAL DRESSES
There are many ways to store formal dresses and one of them is to store in our handy Port-A-Robe boxes that come with a metal rail to hang your formal dress.

AVOID WET ITEMS
During summer and spring season many people spend time outdoors and store items like boats, jet skis, diving wetsuits, swimming gear and floaters, reused multiple times and easily accessible in self storage. Ensure that these items are completely dry before putting them away to avoid developing mould in your storage unit.

We believe the above suggestions will make a positive difference to your storage needs and enable you to utilise your storage unit more efficiently.

Don't forget to purchase from our wide range of good quality and durable moving boxes and packing material.

Visit us at Kennards Self Storage Gladesville at 497 Victoria Road, we are open 7 days. Or call on 9816 4988 to order boxes or reserve your space online. We deliver boxes to your designated address as well.

Or simply visit online here and purchase boxes or rent your self storage space online.

Authors: Anthony Heng, Anton Robertson, Kennards Self Storage Gladesville