Antiques can have both sentimental as well as financial value to the owner. Hence it is important that you ensure they are stored securely for the future.

Self storage units offer the perfect option where these treasures can be kept in a secure area for a long time.

Given the nature of these items, it comes as no surprise that they have to be packed properly before they go into storage.

There are three main criteria to consider prior to antique storage:

• Find a unit that is easily accessible. The less trouble it takes to access the storage unit, the least likely there will be any breakages.
• Top class security at the centre; and
• Insurance
Shelving is also recommended especially for the safety of the smaller items which could get bumped while accessing other packages in a very packed unit. Shelving also ensures better utilisation of storage space as it moves the items off the ground. Kennards Self Storage has a range of shelving options you can select from.

Antiques need to be packaged properly to ensure their longevity. Many removal companies offer packing services along with moving the goods into storage.

A few tips to keep in mind while packing antique items for storage:

• Furniture arms and legs should be wrapped in bubble wrap or blankets. Kennards Self Storage offers an alternative option of corrugated cardboard that will do the job for you.
• Use a good conditioner if you are storing leather as it will protect it from cracking. Wrap the items in blankets to offer added protection.
• You can wipe down metal items with oil prior to storage.
• Wooden furniture should be sprayed with a top-quality furniture polish and never stacked on top of each other. Similarly, do not stack anything on wooden antiques.
• Cover upholstered items with a sheet to avoid dust settling on them.
• Avoid using too much of plastic wrap as it prevents furniture breathing which could result in mould building inside the package.
• Prepare an inventory of the items that are going into storage.

Kennards Self Storage Fortitude Valley is a nostalgic self storage centre that can be a secure haven for your antiques.

The centre boasts history of its own and occupies a special place in the heart of its storers as well as the locals. Located on the corner of Ann and Longland street, the striking orange and blue façade takes you on a journey down history lane.

Known as the William Houghton & Co Woolstore, it was one of the foremost buildings constructed during the early 20th century coinciding with the wool industry boom. In the mid 1960s, things began to change in the area and the facilities provided to the wool industry began to decline. The wharves along the Brisbane river were no longer able to keep up with the changes happening around and slowly got rendered useless.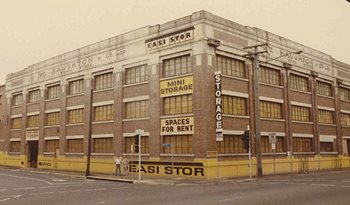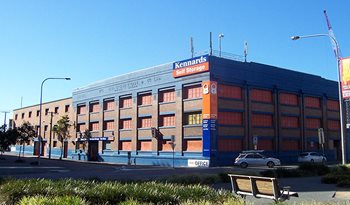 In 1980, the building was sold to Easi Stor and was later named Kennards Self Storage and was the first stand along storage facility in Queensland. Since then, many a storer has walked the corridors of the building, each one telling their own story.

The Box shop at Kennards Self Storage Fortitude Valley has a range of packing supplies required to protect your antiques. Bubble wrap, packing paper and blankets along with specialised boxes to protect mirrors and paintings are also available. Open 7 days a week, you can avail of a 20% discount if you buy 10 boxes or more moving boxes. Even better, you can mix and match the boxes to get the discount.

Check out our insurance rates to store your goods. And we will even through in the first month free up to an insured value of $30,000.

The friendly team of Shaun and Grace have a wealth of experience in the storage industry and will be most willing to offer you a few tips on what might be the best way to store your items.
Give them a call on 07 3252 4231 or jump online to complete our easy no contact move-in process.