City Overview
The Hills District encompasses up to 35 suburbs in an area of 380 square kilometres and stretches from Wisemans Ferry to the north of Parramatta and is approximately an hour away from Sydney. It is one of the oldest regions settled in NSW and most of its suburbs are situated in the Hills Shire. Agriculture and farming take up two thirds of the land in the region and Baulkham Hills is the main governing city. In 2016 the Hills District population was near 165,000 and continues to increase at a rate of up to 4% a year, with up to 75,000 people in the workforce.
The Hills region is a blend of rural land, native landscapes and urban living and is expanding at a rapid rate with new housing and building sites being developed. The suburbs of the Hills district have a long and rich history with plenty of historic buildings and sites some of which have stayed in their original state and are heritage listed. There is a diverse range of national parks, mountains and walking trails to discover and explore. The Hills Shire offers a fusion of unique shopping experiences with major shopping centres, weekly markets and roadside stalls. Castle Towers and Rouse Hill Town Centre are two major shopping complexes that provide a range of designer fashion, jewellery, home wares and food. There are weekly markets and roadside stalls such as the Bella Vista Farm Markets, North Rocks Markets and the Hills Artisan Markets supplying fresh produce, gourmet artisan arts and craft, fashion and jewellery. There is a wide selection of cafes, restaurants and bars that offer the best dining experiences in the Hills District. The Hills District has a number of festivals and events throughout the year such as the Orange Blossom Festival, Lunar Festival and Sydney Hills Shakespeare in the Park that attracts local visitors and international tourists each year. Orange Blossom festival Castle Hill picture courtesy of Zeug Creative
There are many transport options available to get to and around the Hills Shire using buses and taxis and the introduction of the Metro Northwest train line in 2019 will bring eight new railway services to the Shire to cater for the major growth in population. The hills District is the perfect location to enjoy a laid back suburban community lifestyle surrounded by native landscapes and friendly locals.

Source:
http://www.localbusinessguide.com.au/new-south-wales/castle-hill/
http://www.discovernswaustralia.com/destination_sydney_hills.asp
https://en.wikipedia.org/wiki/Hills_District#Population
https://www.tripadvisor.com.au/Attractions-g2651009-Activities-The_Hills_Shire_Greater_Sydney_New_South_Wales.html
http://www.onlysydney.com.au/36934/hills-artisans-craft-market#.WXjEOtOGOu4
http://www.dailytelegraph.com.au/newslocal/the-hills/stop-stalling-visit-a-market-in-the-hills/news-story/441b02b99366d15c3a5839cd43a4ec88
http://www.communityprofile.com.au/thehills
http://www.economyprofile.com.au/thehills
http://profile.id.com.au/the-hills

Fun facts and trivia about Hills District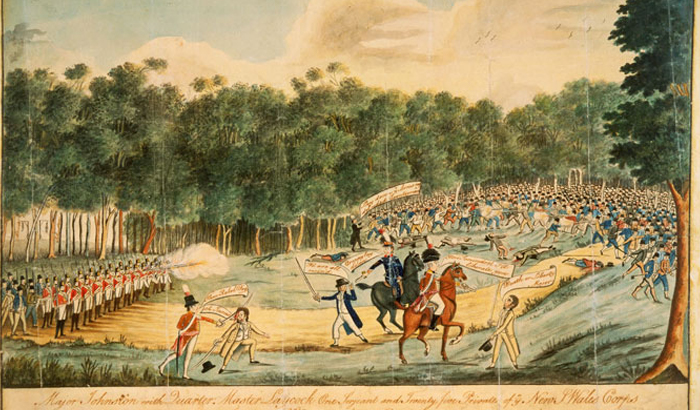 The Battle of Vinegar Hill picture courtesy of National Museum Australia

Weather in Hills District
The Hills Shire has an oceanic climate and is defined by its high position above sea level causing it to have more rainfall than any other region in Sydney. The average temperature in summer is 28C but has recorded highs of up to 45C. Winter is cold and crisp with July and August bringing winds of up to 100km/h. Due to its warm climate and high UV index the use of sun protection is highly advised.
Summer: December - Feb
Average: 28C
Autumn: March – May
Average: 24C
Winter: June – August
Average: 18C
Spring: September – November
Average: 24C
Source:
http://weather.mla.com.au/climate-history/nsw/castle-hill

Relocating
The Hills District region's geographical features, developing urban and commercial centres and new transport infrastructure have made it a highly sought after location to move to. The number of people relocating to the area is evidence of the appeal the region has. In recent years there has been an influx in new residential and commercial developments as well as an endless amount of restaurants, bars and cafes. There is plenty of affordable housing and beautiful suburbs that offer the best in transport, education, health and public utilities such as Castle Hill, Baulkham Hills, Bella Vista and Winston Hills. Its close proximity to Sydney is also an advantage.
Source:
http://mccrindle.com.au/the-mccrindle-blog/sydney-at-5-million-and-the-growth-of-the-hills-shire

Removalists in Hills District
Moving can be an exciting yet stressful event and trying to find the best removalists with reasonable rates and professional attitudes can heighten the stress factor. We have provided a list below of a number of professionals to help in the Hills District
Moving your business to Hills District
The Hills District has a vast range of support networks to guide and assist in relocating or starting a new business. Workshops, training and business advisory services are available to support businesses of all types macro or micro. For additional information and links to support programs see:
Top Community Services in Hills District
There is a wide range of community services, government and non-government in the Hills District that offer support and services to adults and families in regards to jobs, housing and accommodation, ageing and disability, youth and child care, domestic violence, family assistance, multicultural services and general information and advice for residents. For a comprehensive list of not for profit and Government departments:
SydWest Multicultural Services
Hills Community Care Transport

Schools in Hills District
The Hills District has a notable education framework with high academic records of achievement and is well recognised in the region for having an extremely high quality of educational institutions. Tertiary education is also available at Western Sydney Institute of TAFE, Hills College, Western Sydney University and Macquarie University. For a comprehensive list of schools and educational offerings check out the following links:
Getting Around Hills District
Public transport, buses, trains, and taxis:
City Sightseeing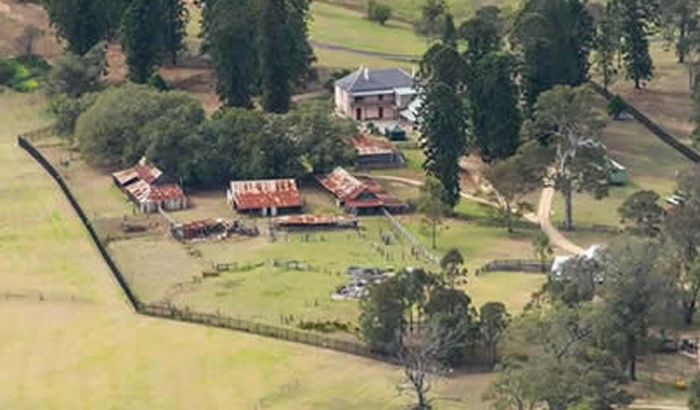 Bella Vista Farm picture courtesy of Bella Vista Farm
Employment
Hills District News