City Overview
The Illawarra is a coastal region situated in New South Wales surrounding five local government cities –Shellharbour, Kiama, Shoalhaven, Wingecarribee and Wollongong, the third largest urban district in New South Wales. The Illawarra is well known for its impressive coastline that stretches for 242km with spectacular views. Long stretches of sandy beaches, harbour inlets and rivers along the east offer an abundance of options for recreation and leisure. To the west are acres of bushland and the beautiful hills of the Southern Tablelands. The region's main industries are coal mining, farming and steel making and home to Australia's largest steel operating plant BlueScope Steel located in Port Kembla. The Illawarra has a very strong heavy industry sector with coal mining, farming and steelworks being the main industries to service the region. In 2016 the Illawarra's population was just over 400,000 and continues to increase at a rate of 5% a year, with up to 180,000 people in the workforce. Blue Scope Steel Port Kembla picture courtesy of Illawarra Mercury
Alluring beaches, pristine bays combined with unspoiled nature and breathtaking attractions make the Illawarra an ideal location for tourists and holidaymakers. Due to the development of new bars, restaurants, retail outlets and an internationally accredited university the Illawarra is an ideal location for homebuyers and those who want to combine work and lifestyle. The Illawarra region offers an abundance of shopping experiences from the newly built major shopping complex Wollongong Central to the weekly beachside markets and fairs providing fresh produce, craft, fashion and jewellery.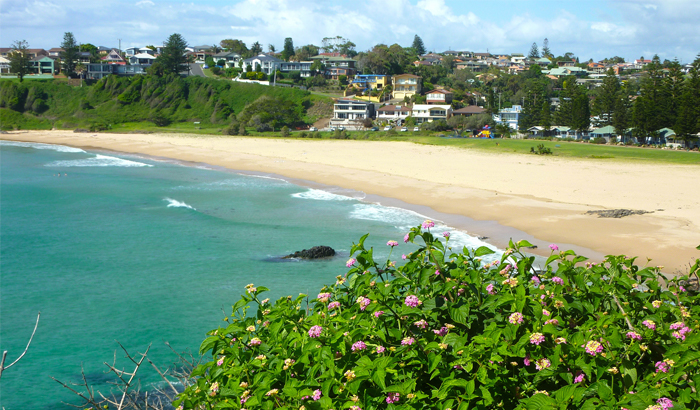 Kendalls Beach Kiama picture courtesy of Christopher West
The Illawarra has an impressive line up of festivals and events such as the Yours and Ours Festival which celebrates music, art and culture, Nan Tien Cultural Festival and the Coastal Classic. It offers a large range of recreational and sports activities such as golf, tennis, cycling, canoeing and fishing.
There are many transport options available to get to and around the Illawarra region using buses, trains, ferries and taxis. There is also a free Gong Shuttle bus that services the Wollongong area and runs every 10-20 minutes between 7am and 10pm weekdays and 8am to 6pm weekends.
Source:
https://en.wikipedia.org/wiki/Illawarra
http://www.iris.org.au/index.pl?page=220
http://www.visitnsw.com/destinations/south-coast/wollongong-and-surrounds/events-festivals-and-celebrations
Fun facts and trivia about Illawarra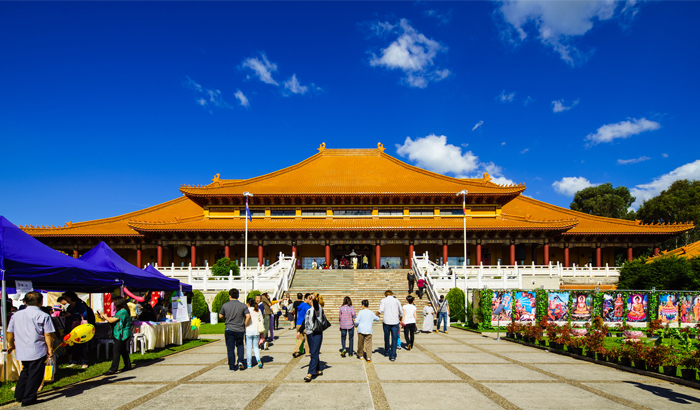 Nan Tien Temple picture courtesy of Yuanwen Li
Weather in Illawarra
The climate in the Illawarra is subtropical and typically warm and balmy in summer and mild in winter. The humidity levels are fairly high and rainfall is disbursed evenly throughout the seasons. The average temperature in summer is 28C but has recorded highs of up to 44C. Winter is dry and mild with July and August bringing winds of up to 100km/h. Due to its subtropical climate and high UV index the use of sun protection is highly advised.
Summer: December - Feb
Average: 28C
Autumn: March – May
Average: 24C
Winter: June – August
Average: 20C
Spring: September – November
Average: 25C
Source:
http://www.weatherzone.com.au/climate/station.jsp?lt=site&lc=68188
https://en.climate-data.org/location/74/

Relocating
The Illawarra region's geographical features and abundance of recreational choices have made it a top attraction for people who want to combine work with lifestyle. The number of people relocating to the area is evidence of the appeal the region has. In recent years there has been an influx in new residential developments as well as an endless amount of restaurants, bars and cafes. There is plenty of affordable housing and beautiful suburbs that offer the best in transport, education, health and public utilities such as Mount Pleasant, Helensburgh, Woonoona, Kiama and Figtree. Its close proximity to Sydney is also an advantage. There are few places that are able to offer a perfect blend of business, location and coastal lifestyle.
Source:
http://www.iris.org.au/index.pl?page=220
https://www.contentedtraveller.com/visiting-northern-suburbs-illawarra/
https://en.wikipedia.org/wiki/Wollongong

Removalists in Illawarra
Moving can be an exciting yet stressful event and trying to find the best removalists with reasonable rates and professional attitudes can heighten the stress factor. We have provided a list below of a number of professionals to help in the Illawarra area:
Nerang Pimpama Removals (For interstate)
Moving your business to Illawarra
The Illawarra has a vast range of support networks to guide and assist in relocating or starting a new business. Workshops, training and business advisory services are available to support businesses of all types macro or micro. For additional information and links to support programs see:
Top Community Services in Illawarra
There is a wide range of community services, government and non-government in Illawarra that offer support and services to adults and families in regards to jobs, housing and accommodation, ageing and disability, youth and child care, domestic violence, family assistance, multicultural services and general information and advice for residents. There are a large number of public health care services that are available to the wider community and consist of nine public hospital and 14 community centres. For a comprehensive list of not for profit and Government departments:
Multicultural Communities Council of Illawarra
Illawarra Aboriginal Corporation
Illawarra Shoalhaven Local Health District
Schools in Illawarra
The Illawarra has a notable education framework with high academic records of achievement. There are 181 primary and high schools in the region and 14 TAFE NSW campuses operated by the Illawarra Institute of Technology that offer a vast range of vocational sills training. Tertiary education is also available at University of Wollongong that encompasses four campuses within the region. For a comprehensive list of schools and educational offerings check out the following links:
Getting Around Illawarra
Public transport, buses, trains, ferries and taxis:
City Sightseeing
Shellharbour picture courtesy of Grant Pacific Drive

Employment
Illawarra News