For the suburb of Petersham, there are numerous icons but none more prestigious than the big orange building a top of Taverners Hill. Kennards Self Storage Petersham is located at 606 Parramatta Rd, Petersham and has been an established storage facility since its birth with Millers storage in 1984. Prior to Miller's storage it was formidably recognised as Miller's Brewery (separate to storage) which was purchased from Toohey's Brewery in 1967.
Petersham is located 7km South West of Sydney's Central Business District. It is bordered by Leichhardt to the North, Stanmore to the East, Marrickville to the South and Lewisham to the West.
Kennards storage Petersham has held an existing foothold within the Petersham community since 2004 being dubbed the tallest operational building just outside of the central business district. The existing standing facility currently occupies 3,343 square metres in total with a current expansion underway with a further 1,800 square metres of new available spaces.
Upon the new expansion, Kennards Self Storage are paving the way to the future by offering drive up, ground floor and upper level storage units accessible via one of the two new lifts that will be installed. A brand new glass lift will be added onto the South – East side of the existing building, on a clear day, this will provide exceptional views towards Marrickville, Dulwhich Hill and further on. To better equip Kennards Self Storage, the new Petersham facility will become a 24/7 access centre, this will enable local residents and commercial businesses flexibility by easing the strain of congested traffic through morning and afternoon peak hours.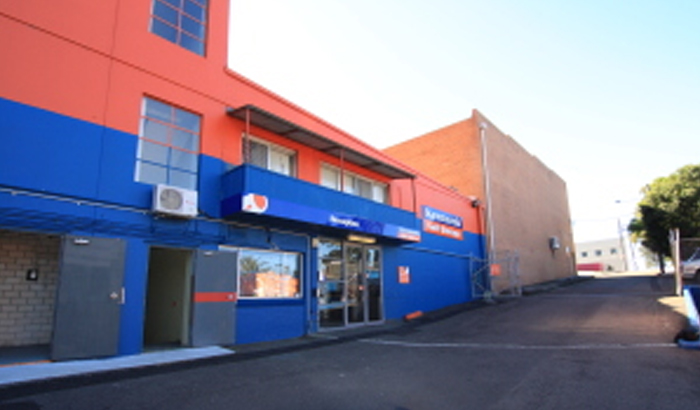 The suburb of Petersham is enriched with a long standing culture dating back to the municipality in 1872 being a primarily Portuguese farming and business Community. These days Petersham is seen as a very multicultural and diverse community, whilst still maintaining its traditional heritage as seen on the long-standing buildings in the area.
The big orange building is one artefact that pays homage to the late Paul Beadle (1917-1992). Paul Beadle was a sculptor, medalist and a finalist in the Sir John Sulman Prize in 1953 for his sculpture the frieze of four figures; "Farmer, Brewer, Drayman, Publican." One of his sculptures can be seen on the Northern side of the building facing Parramatta Rd.
The new extension of Kennards Self Storage Petersham will commence in the first week of April, 2017 and will be equipped with a large and spacious undercover loading dock, individually alarmed units and pin code access, all of this while enjoying 24/7 access.
Author: Shavarne Scanlan, Assistant Manager
Kennards Self Storage Petersham