City Overview
Melbourne CBD is known as the core centre and hub of Melbourne's inner suburbs. It is famous for its alleyways and arcades as well as its stunning parklands, lakes and gardens that envelop its fringes. The population is close to 50,000 and the CBD is one of Australia's leading financial centres. The Hoddle Grid is the overlay of streets that form the Melbourne CBD spanning 1 x ½ mile grid that is filled with acclaimed restaurants, bars and cafes and is noted for its fusion of contemporary and Victorian architecture. The city itself is a multicultural blend of sights, tastes and sounds.
Melbourne CBD picture courtesy of Andy Gibson
Melbourne CBD offers the best in shopping experiences with designer stores along Collins Street, local fashion in nearby Cathedral Arcade and the famous Bourke St Mall, Emporium and Melbourne Central showcasing popular brands. Melbourne is home to the largest open-air market in the Southern hemisphere, the Queen Victoria Market, and is the ideal place to find fresh foods and gourmet delights. There are an endless number of attractions and places to explore including the Melbourne Aquarium, National Gallery of Victoria, crown Casino and the Royal Botanic Gardens. Melbourne CBD has a reputation for being one of the world's most celebrated hubs of street art and has been rated Australia's top cultural attraction by readers of Lonely Planet.
Melbourne CBD boasts an impressive line up of annual festivals and events such as the International Comedy Festival, White Night Festival and the International Film Festival. For music lovers don't miss the Melbourne International Jazz Festival and the Chinese New Year where the city is transformed into a display of parades, feasts and celebration.
Melbourne CBD offers a range of recreational and sports activities with a vast range of swimming and sporting clubs and is home to the Australian Open, Formula One Australia Grand Prix and the famous Melbourne Cricket Ground.
There are many transport options available to get to South East Melbourne using buses, trains, taxis and trams. The Melbourne Underground Rail Loop services the city with five train stations with trams servicing the main streets of the CBD. Planes are another option for travellers who want to lay back and relax and cut down on travel time.
Source:
https://www.buzzfeed.com/simoncrerar/marvellous-melbs?utm_term=.tn7b9a5xn#.sw5BqeW5g
https://www.realestate.com.au/neighbourhoods/melbourne-3000-vic
http://insiderguides.com.au/melbourne-cbd/
https://en.wikipedia.org/wiki/Melbourne_City_Centre

Fun facts and trivia about Melbourne CBD
John Batman, the founder and pioneer of Melbourne was originally going to name Melbourne 'Batmania'.
Between 1921 and 1927 Melbourne was originally the capital city of Australia before Canberra claimed the title.
The Queen Victoria Markets, known to locals as "Queen Vic' was actually built over Melbourne's first cemetery in 1870.
According to the Summary Offences Act in 1966 it is still illegal in Melbourne to fly a kite or play a game in public that annoys another person.
Australia's first ever pizza restaurant, Toto's opened in Carlton, Melbourne in 1961 and is located in the famous Little Italy, Lygon Street.
Chinatown was established in Melbourne in 1851 by Chinese prospectors and retains its title for being the longest continuous Chinese settlement in the world.
Melbourne is home to the Melbourne Cricket Ground, Docklands Stadium, Rod Laver Arena, Hisense Arena and Olympic Park in Melbourne Park. Giving its title of being the only city in the world to house five international standard sporting facilities on the edge of its CBD.
In 1856 Melbourne a party of stonemasons walked off the job to fight for the right to work an eight-hour day and won the world's first Eight Hour Day.
Australian artist, vale Leonard French, took 5 years to complete what is now the world's largest stained glass ceiling in Melbourne's National Gallery of Victoria between 1965 and 1970.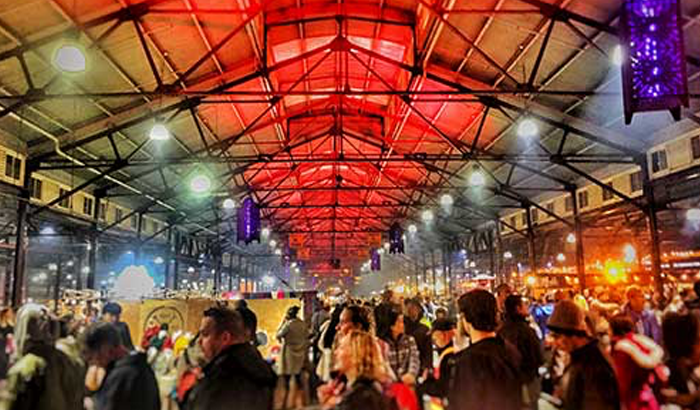 Queen Victoria Markets picture courtesy of Max Thum

Weather in Melbourne CBD
Melbourne CBD is known to have low humidity levels in summer and winters are generally fairly cold and wet. During the months between November and March dry hot weather with occasional rain and thunderstorms occur due to the approach of a southerly change in wind. The average temperature in winter is 14C and in summer the average is 25C so the use of sun protection between the months of December and February is highly advised.
Summer: December - Feb
Average: 25C

Autumn:March – May
Average: 20C

Winter: June – August
Average: 14C

Spring: September – November
Average: 20C

Source:
https://www.travelvictoria.com.au/melbourne/weather/
http://www.emelbourne.net.au/biogs/EM00360b.htm
Relocating
Melbourne's CBD is a classy blend of residential dwellings featuring stunning new apartment complexes and graceful, older residences with stunning architecture that adds to the appeal of the city. There is currently over 220,000 people who work in Melbourne's CBD and this number seems likely to change at a rapid rate. Statistics show that the number of people relocating to Melbourne's CBD is on the rise as couples, families, professionals and students are attracted to the proximity of work and amenities. The City of Melbourne's 2016 Census of Land Use and Employment (CLUE) indicated almost a double in new residences in the past ten years.
If you are after world class amenities, little travel time between home and work and a bustling and urban lifestyle than the heart of Melbourne's CBD is the perfect location.
Source:
https://www.domain.com.au/news/melbourne-families-embrace-city-living-20141128-11ux4x/
http://www.abc.net.au/news/2017-05-04/melbourne-housing-pricey-apartments-white-collar-jobs/8494438
https://www.realestate.com.au/neighbourhoods/melbourne-3000-vic

Removalists in Melbourne CBD
Moving can be an exciting yet stressful event and trying to find the best removalists with reasonable rates and professional attitudes can heighten the stress factor. We have provided a list below of a number of professionals to help in the Melbourne CBD region:
Moving your business to Melbourne CBD
Melbourne's CBD has a vast range of support networks to guide and assist in relocating or starting a new business. Workshops, training and business advisory services are available to support businesses of all types macro or micro. For additional information and links to support programs see:
Build Growth Accountants Advisory Services
Small Business Mentoring Services
Top Community Services in Melbourne CBD
There is a wide range of community services, government and non-government in Melbourne CBD that offer support and services to adults and families in regards to jobs, housing and accommodation, ageing and disability, youth and child care, domestic violence, family assistance and general information and advice for residents. For a comprehensive list of not for profit and Government departments:
McAuley Community Services for Women
Australian Multicultural Services
Schools
Melbourne CBD has some of the most exclusives schools in the city centre and provides exceptional quality education with a diverse range of schools both public and private, which provide for early childhood, primary and high school students. Tertiary education is available at Chisolm TAFE, Melbourne Institute of Vocational Studies, LaTrobe College of Art and Design and the Australian Institute of Music (AIM), There are 3 main universities in the Melbourne CBD which are Victoria University, Royal Melbourne Institute of Technology (RMIT) and the University of Melbourne as well as others within a short distance of the CBD. For a comprehensive list of schools and educational offerings check out the following links:
Getting Around
Public transport, buses, trains, trams, ferries and taxis:
City Sightseeing
Melbourne Central Shot Tower picture courtesy of Max Thum

Employment
Melbourne CBD News