City Overview
The North Shore of Sydney describes the residential area of northern metropolitan Sydney, in New South Wales, Australia. This generally refers to the suburbs located on the north shore of Sydney Harbour up to Hornsby and between Middle Harbour and the Lane Cove National Park.
There are many small parks and areas of the sclerophyll forest adjacent to and within residential areas, earning the area the nickname "the leafy North Shore". The Lane Cove National Park and the Garigal National Park include many areas of remnant bushland adjacent to the Lane Cove River and Middle Harbour. There is excellent bushwalking, abseiling and bouldering around Lindfield and North Turramurra. Gordon houses one of Sydney's largest bat colonies in a bat reserve leading to Middle Harbour.
The Lower North Shore has many unique landmarks such as: The Sydney Harbour Bridge, Taronga Zoo in Mosman, Admiralty House (Sydney residence of the Governor-General of Australia), Kirribilli House (Sydney residence of the Prime Minister of Australia), Luna Park and Balmoral Beach. At a Sydney or local level, however, landmarks are more plentiful and include: The Lane Cove Azalea Beds, Blues Point Tower, Eden Gardens, the Balmoral Rotunda, the Stanton Library in North Sydney, Lane Cove Plaza, Zenith Towers at Chatswood, Northpoint Tower in North Sydney, Cammeray suspension bridge at Cammeray, Echo Point Park in Roseville Chase, the Royal North Shore Hospital, the Hornsby Water Clock, the 'Forum' in St Leonards and North Sydney Oval. Landmark churches in the area include St Mary's in North Sydney, Christ Church in Lavender Bay, the Gladesville-Macquarie Chapel and St Paul's in Chatswood.
The Spit Bridge is another iconic landmark of Sydneys North Shore, first built in 1924 and again in 1958. The Spit Bridge over Middle Harbour is a steel and concrete girder bridge with a bascule lift span. The Spit Bridge comprises 7 spans of a total length of 745 feet 6 inches (227.23 m), has four traffic lanes and a pedestrian walkway on either side. There are three spans at either end of the opening span. Each of the six fixed spans have four welded plate girders as the main members, with cross girders, but without stringers or horizontal bracing. The concrete deck is dowelled to the steelwork. The opening span (Span 4) is a single-leaf bascule. It has two main girders, with cross girders and stringers, covered by an open mesh steel deck.
The pictures below shows how people would cross the bridge in 1914 using the Spit Punt and the Bridge today. Spit Punt Sydney picture courtesy of Spit Swim Club on Pinterest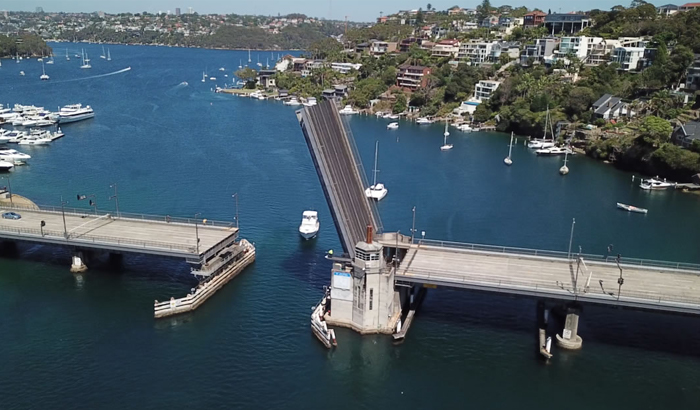 Spit Bridge Sydney picture coutersy of End2End Media Library

Source:
https://en.wikipedia.org/wiki/North_Shore_(Sydney)
http://www.historyofsydney.com.au/the-spit-punt/
Weather on the North Shore
North Shore has a temperate oceanic climate. Turramurra receives one of the highest rainfalls in the Sydney area, with an average of 1,400 millimetres (55 in) per year. The inland parts of the North Shore are somewhat cooler than other areas of the surrounding Sydney basin in the winter months, particularly the CBD.
Summer: December - Feb
Average: 29C
Autumn: March – May
Average: 23C
Winter: June – August
Average: 17C
Spring: September – November
Average: 26C
Relocating
Picture-book homes, prestigious schools and intimate villages, Sydney's North Shore is what fairy tales are made of. Bordered by two national parks, this cluster of neighbourhoods has a nostalgia and elegance that seems worlds away from the bustle of city life. A highly sought-after area, the North Shore is home to professionals and families who love being within easy reach of business hubs, the Northern Beaches and some of Sydney's top-rated schools.
Significant commercial and retail centres on the North Shore include North Sydney, Crows Nest, Chatswood, St Leonards, Neutral Bay, Gordon and Hornsby. The North Shore has two large commercial centres located at North Sydney and Chatswood, with many international companies having their Australian or Asia–Pacific Headquarters in this part of Sydney. The region's largest central business district at North Sydney is home to a modern urban skyline of skyscrapers. Although North Sydney has none of Sydney's major shopping centres it is home to scores of speciality stores and cafés. Chatswood is one of the largest retail areas. It is home to large shopping centres such as Westfield Chatswood, Chatswood Chase and apartment towers such as The Sebel. St Leonards is another large commercial area featuring mostly office space and apartments. Westfield Hornsby is also a major shopping centre.
Source:
https://www.sitchu.com.au/sydney/north-shore/
https://en.wikipedia.org/wiki/North_Shore_(Sydney)
Removalists on the North Shore
Moving can be an exciting yet stressful event and trying to find the best removalists with reasonable rates and professional attitudes can heighten the stress factor. We have provided a list below of a number of reputable and dependable professionals to help in the North Shore Sydney region we can recommend:
Big League Removals - 0416 256 263
Moving 4U - 0403 916 194
Moving your business to the North Shore
The North Shore of Sydney is forever expanding with new home and land developments as well as proposed road and transport infrastructures in order to cater for Sydney's growing population. The North Shore has a vast range of support networks to guide and assist in relocating or starting a new business. Workshops, training and business advisory services are available to support businesses of all types macro or micro. For additional information and links to support programs see:
North Sydney Chamber Of Commerce
Top Community Services on the North Shore
There is a wide range of community services, government and non-government in the North Shore area that offer support and services to adults and families in regards to jobs, housing and accommodation, ageing and disability, youth and child care, domestic violence, family assistance and general information and advice for residents. For a comprehensive list of not for profit and Government departments:
Royal North Shore Community Health
Schools
Western Sydney has some of the most leading schools in New South Wales and is well known for its high quality educational facilities. It has an extensive and diverse range of schools both public and private, which provide for early childhood, primary and high school students. Tertiary education is available at Nepean College of TAFE, Western Sydney University and Macquarie University. For a comprehensive list of schools and educational offerings check out the following links:
Sydney North Private Schools Guide
Getting Around
Public transport, buses, trains, ferries and taxis:
City Sightseeing
North Shore Tourist Atrractions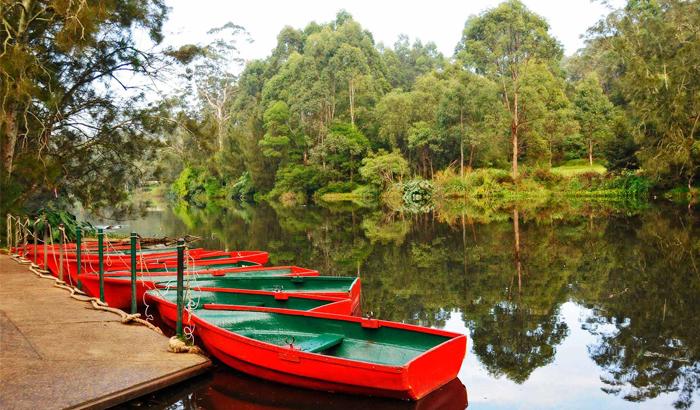 Lane Cove National Park picture courtesy of National Parks and Wildlife Servcies
Employment
North Shore Sydney News