City Overview
South West Sydney is made up of a vast area of suburbs including Liverpool, Canterbury, Bankstown, Fairfield, Camden and Campbelltown. The region is situated approximately 30km from Sydney's CBD. With a population of almost 820,000 it has become the fastest growing district in Sydney. The South West is known as a working class metropolitan district and has much to offer in affordable lifestyle with new housing developments, road works and industrial sites planned to cater for the rise in population and people who want to live in the area.
The South West district is the largest in Sydney and delivers a perfect balance of rural living and city lifestyle. With its warm climate throughout most of the year there are plenty of outdoor recreational activities and events to experience such as the Spring Into Liverpool Festival, Campbelltown City Challenge Walk, Fishers Gig, and Bankstown Bites Food Festival. South West Sydney has much to offer in shopping with a diverse blend of retail outlets, is home to a large number of popular markets such as the Camden Produce Market, Bankstown Market handmade arts and crafts, fashion, jewellery or buy organic and conventional fresh farm produce. There is a diverse and cultural blend of shopping, entertainment, pubs, galleries and cafes. There are a myriad of welcoming restaurants, cafes and bars that offer the best in food dining experiences. Bankstown Bites Food Festival picture courtesy of Grab Your Fork

There are many attractions and places to explore and discover such as the Casula Powerhouse, Fairfield City Museum and Gallery and Dharawal National Park. There are many transport options available to get to and around the region using buses, trains, ferries and taxis. South West Sydney offers an outstanding relaxed cultured lifestyle combined with remarkable scenery in a well-established community.
Source:
http://www.aroundyou.com.au/articles/best-farmers-markets-in-sydneys-south-west
https://en.wikipedia.org/wiki/South-western_Sydney
https://www.campbelltown.nsw.gov.au/RCC/CouncilandCouncillors/AnnualEvents
http://www.sydney.com/destinations/sydney/sydney-west/events/bankstown-bites-food-festival
https://en.wikipedia.org/wiki/Regions_of_Sydney#South-western_Sydney

Fun facts and trivia about South West Sydney
Paul Keating picture courtesy of Keating.org.au

Weather in South West Sydney
The weather in South West Sydney is generally sunny throughout the year and has a humid subtropical climate. Summer is quite hot averaging 31C and winters are dry and cool with an average of approximately 20C. Due to its abundance of sunshine throughout the year and UV exposure the use of sun protection is highly advised.
Summer: December - Feb
Average: 31C
Autumn: March – May
Average: 26C
Winter: June – August
Average: 20C
Spring: September – November
Average: 27C

Source:
http://www.weatherzone.com.au/climate/station.jsp?lt=site&lc=66137
http://www.weatherzone.com.au/climate/station.jsp?lt=site&lc=68257


Relocating
South Western Sydney is home to an assorted mix of unique and chic, cosmopolitan restaurants, trendy cafes, beautiful bushlands and nature reserves. South West Sydney is expanding at a rapid rate with new infrastructures, transport links and amenities. There are several friendly and popular suburbs such as Hoxton Park, Revesby, Bankstown and Campbelltown. South West Sydney is the perfect location for those who want to live a relaxed lifestyle amongst beautiful nature reserves and bushland.
Weekend Notes


Removalists in South West Sydney
Moving can be an exciting yet stressful event and trying to find the best removalists with reasonable rates and professional attitudes can heighten the stress factor. We have provided a list below of a number of professionals to help in the South West Sydney region:


Moving your business to South West Sydney
South West Sydney has a vast range of support networks to guide and assist in relocating or starting a new business. Workshops, training and business advisory services are available to support businesses of all types macro or micro. For additional information and links to support programs see:
South West Sydney business Enterprise centres
Canterbury Bankstown Business Support
NSW Department of Industry


Top Community Services in South West Sydney
There is a wide range of community services, government and non-government in South West Sydney that offer support and services to adults and families in regards to jobs, housing and accommodation, ageing and disability, youth and child care, domestic violence, family assistance, multicultural services and general information and advice for residents. For a comprehensive list of not for profit and Government departments:
NSW Family and Community Services
NSW Family and Community Services
YWCA NSW


Schools
South West Sydney has a diverse range of high quality education services ranging from early childhood through to tertiary education. Tertiary education is available at TAFE NSW South Western Sydney Institute, Macarthur Community College, Australian Careers Business College (ACBA), Western Sydney University. For a comprehensive list of schools and educational offerings check out the following links:
Western Sydney University Bankstown
Australian School Directories


Getting Around
Public transport, buses, trains, and taxis:
Legion Cabs


City Sightseeing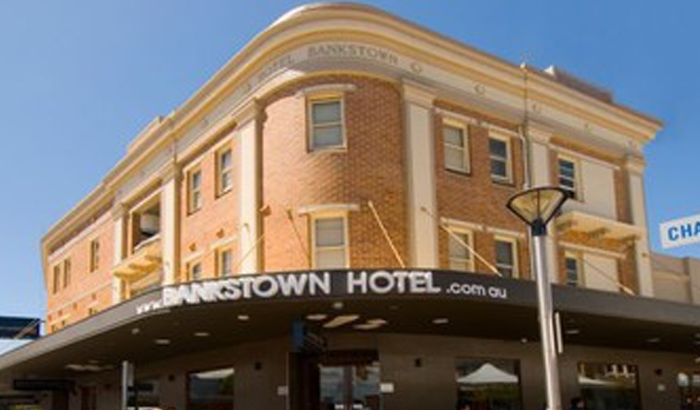 Bankstown Hotel picture courtesy of Dimmi


Employment
Campbelltown City Council Careers
I Work for NSW


South West Sydney News