City Overview
Sydney CBD is the main centre of business and finance in Sydney and is one of the oldest settlements in Australia. It covers the areas from Circular Quay in towards Central and Darling Harbour including the surrounding suburbs of Haymarket, Pyrmont, Woolloomooloo and Ultimo. The population is close to 20,000 and is the core of Sydney's nightlife and entertainment. Sydney CBD is a fusion of skyscrapers, national iconic landmarks such as the Sydney Opera House and Sydney Harbour Bridge and notable parks like the Royal Botanic Gardens, The Domain and Hyde Park.
Sydney boasts some of the best shopping experiences in the country ranging from large shopping centres such as the Queen Victoria Building with designer stores to street boutiques showcasing local and brand name fashion to factory warehouses that offer some incredible sales. Paddy's Markets, The Rocks Markets and Sydney Fish Markets boast some of the best fashion, arts and crafts, home wares and fresh food that Sydney can offer. Sydney CBD is the cultural centre for dining and entertainment and is a treasure trove of hidden trendy little cafes, contemporary popular restaurants and bars and world-class museums. Darling Harbour is one of the city's highlights with its blend of fine dining, shopping, street entertainment and nightclubs attracting up to 25 million visitors each year. Sydney Harbour Bridge picture courtesy of Sigurd Kristiansen
Sydney CBD offers an impressive list of festivals and events throughout the year such as the Sydney Mardi Gras, Royal Easter Show and Vivid Sydney that transforms the city into a colourful array of spectacular light. The New Years Eve Fireworks held in Sydney each year is definitely one not to miss with its breathtaking display throughout Sydney Harbour.
Sydney CBD offers an abundance of recreational and sports activities with a vast range of swimming and sporting clubs and annual sporting events such as the City to Surf and Spring Racing Carnival. There are many transport options available to get to and around Sydney CBD using buses, trains, ferries, light rail and taxis. Planes are another option for travellers who want to lay back and relax and cut down on travel time. Sydney Airport is Sydney's major airport that provides domestic and international flights to and from Sydney. There are also direct train services to the airport.
Source:
https://www.westernsydney.edu.au/international/home/prepare_to_arrive/pre-departure/sydney_lifestyle
https://www.weekendnotes.com/top-12-annual-events-in-sydney/
http://www.sydneyfishmarket.com.au/home
https://en.wikipedia.org/wiki/Sydney_central_business_district
http://www.darlingharbour.com/about-us/
https://www.sydneyairport.com.au/
Fun facts and trivia about Sydney CBD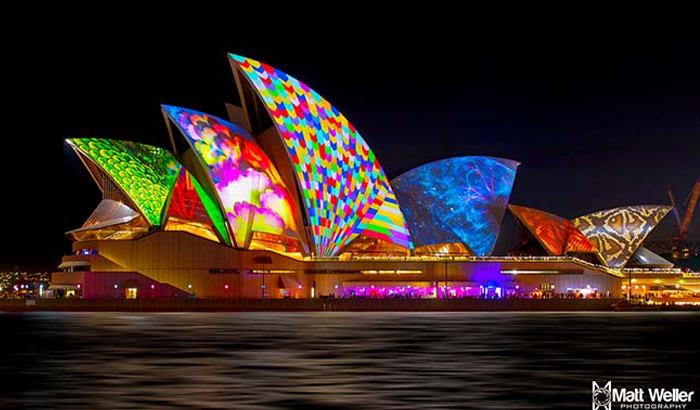 Vivid Lights at Sydney Opera House picture courtesy of Matt Weller

Weather in Sydney
Sydney generally maintains a moderate climate with plenty of sunshine throughout the year. In winter the average is 20C and can be mild to quite chilly and produce large amounts of rainfall during autumn and winter. Summer months can bring high levels of humidity with the average temperature reaching 29C. Light afternoon winds brought in from the coast offer some relief to the hot summer days. Sydney is blessed with approximately 340 days of sunshine a year so the use of sun protection is highly advised particularly between the months of December and February.
Summer: December - Feb
Average: 29C
Autumn: March – May
Average: 25C
Winter: June – August
Average: 20C
Spring: September – November
Average: 26C
Source:
http://www.weatherzone.com.au/climate/station.jsp
https://www.livingin-australia.com/climate-weather-sydney/
https://www.travelonline.com/sydney/weather.html
https://en.wikipedia.org/wiki/Climate_of_Sydney
Relocating
Sydney has gained a reputation for being a region that offers high living standards being ranked once again by Mercer as the top 10th in the world for quality of life. It has some of the best educational institutions in the country and is home to the nation's leading financial institutions. Living in Sydney offers an active urban lifestyle with world-class amenities, stunning local attractions and a vibrant and cultural social scene.
Sydney boasts the largest economy in Australia and is home to the headquarters of several multinational companies and leading financial institutions such as the Australian Stock Exchange and the Reserve Bank of Australia. Sydney continues to flourish as a city expanding in population and infrastructure and its thriving economy, pleasant climate and ideal location make it one of the top cities in the world to live and work in.
Source:
https://en.wikipedia.org/wiki/Economy_of_Sydney
https://www.rdasydney.org.au/the-sydney-region~1/economic-profile/
https://www.domain.com.au/news/sydney-ranked-10th-in-world-in-mercer-quality-of-life-survey-20170315-guy89c/.
Removalists in Sydney CBD
Moving can be an exciting yet stressful event and trying to find the best removalists with reasonable rates and professional attitudes can heighten the stress factor. We have provided a list below of a number of reputable and dependable professionals to help in the Sydney region we can recommend:
Moving your business to Sydney CBD
Sydney generates the highest levels of international tourists in Australia and is in the lead as the nation's economic and financial centre and its high standard of living has listed Sydney as one of the top liveable cities in the world. Sydney continues its economic and financial growth offering location, lifestyle, top amenities and transport. Sydney has a vast range of support networks to guide and assist in relocating or starting a new business. Workshops, training and business advisory services are available to support businesses of all types macro or micro. For additional information and links to support programs see:
Business Enterprise Centres Australia
Regional Developemnt Australia Sydney
Top Community Services in Sydney CBD
There is a wide range of community services, government and non-government in Sydney that offer support and services to adults and families in regards to jobs, housing and accommodation, ageing and disability, youth and child care, domestic violence, family assistance and general information and advice for residents. For a comprehensive list of not for profit and Government departments:
City Of Sydney Community Services
Sydney Multicultural Community Services
Schools
Sydney has some of the most reputable schools in Australia and is internationally recognised for its high quality educational facilities. It has an extensive and distinct range of schools both public and private, which provide for early childhood, primary and high school students. There are six public universities located in Sydney and tertiary education is available at University of Sydney, University of New South Wales, The University of Technology, Sydney Institute of TAFE, Australian Institute of Music and National Institute of Dramatic Art. For a comprehensive list of schools and educational offerings check out the following links:
Academy of Music and Performing Arts
National Institute of Dramatic Art
Getting Around
Public transport, buses, trains, ferries, light rail and taxis:
City Sightseeing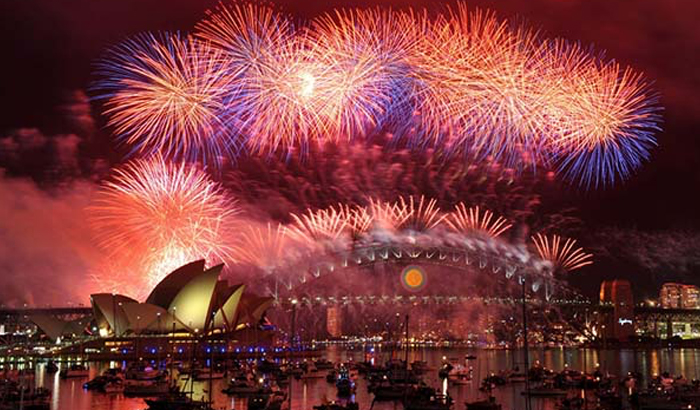 Sydney New Years Eve Fireworks picture courtesy of Truong Linh Duong

Employment
Sydney News