Purchasing online has changed the way we live. Looking for parking and lining up at a cash register is not the only option now.
The internet has made the world a much smaller space. We are just a few clicks away from those new shoes that came out or that leather jacket. Websites are improving all the time and the convenience of shopping from home is something we are all appreciating more as our lives get busier. Just make sure you are buying from a reputable seller!!
Beware of fake sellers
Scammers can create fake websites and social media profiles to try and steal your money or personal details. They copy the designs and logos from legitimate businesses to appear more genuine.
• To verify a site you're looking at, do a browser search for other web pages or profiles by that seller. Compare logos, business names, URL addresses and contact details. If they don't match up, steer clear!
• Type the web address directly into your browser, rather than clicking on a link provided in an email or in an advertisement. This will help ensure you don't get directed to a fake website.
• Be cautious of sellers offering unbelievably low prices. If it looks too good to be true, it probably is!
• Know what you're buying. Read the description of the product carefully and check the size, colour, value and safety of the product.
• Install and maintain the latest anti-virus software to flag untrustworthy sites.
• Social media pages that have recently been created or only have a few followers may be indications they're fake. And look out for pages where the conversation is one-way by the page owner only, with little or no engagement from the page's community.
• When shopping on a Facebook page, look for the blue tick next to page's profile name. This indicates the page has been verified by Facebook.
• When shopping on Instagram, check to make sure the page is public. A true seller is unlikely to make their page private if they're looking to maximise sales!
Once you have purchased from a reputable seller the next problem is the delivery at home. If you are like me you are getting deliveries very early in the morning (I'm running out the bathroom to get to the door in time) or you miss the delivery man and the parcel gets returned to another spot for you to pick up. The other thing that can happen is that the delivery can be left in a "safe" spot for you to collect later.
This part of the online purchase is the problem. There are some security issues.
• Too many people coming to my house is potentially dangerous
• A passer by can just pick up my parcel and leave.
• Picking up a missed delivery defeats the purpose of online shopping in the first place.
• No privacy. Everyone at home knows what you are spending on.
There is another way…………
Organising a safe place where your deliveries can be received at a secure facility is a reality. Renting a small space from Kennards Self Storage is easy and convenient. What's more is you will also have a place to hold your purchases until it's convenient to use them (hiding presents is tough work).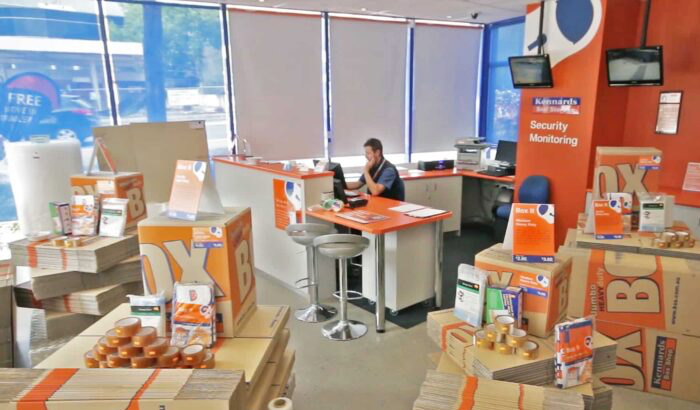 Kennards Self Storage Rydalmere is accessible 24 hours a day with CCTV cameras making the place safe and you will have someone like Flex or Phillip accepting your deliveries on your behalf. They will then sms you to let you know and you have 48 hours to come pick them up or to put them in your secure space.
No more anxiety of being at home to accept deliveries. No more stress about that lost parcel. No more hiding things in the ceiling.
You can do this online as well. Jump on kss.com.au and you can rent a space online in a few clicks. Feel like speaking to someone that would love to help. Call Flex or Phillip on (02) 9638 0311 and they will walk you through some options and help you along. Kennards Self Storage Rydalmere is conveniently located on 257 Victoria Road in Rydalmere.
Kennards Self Storage. Creating the Space for Change!!